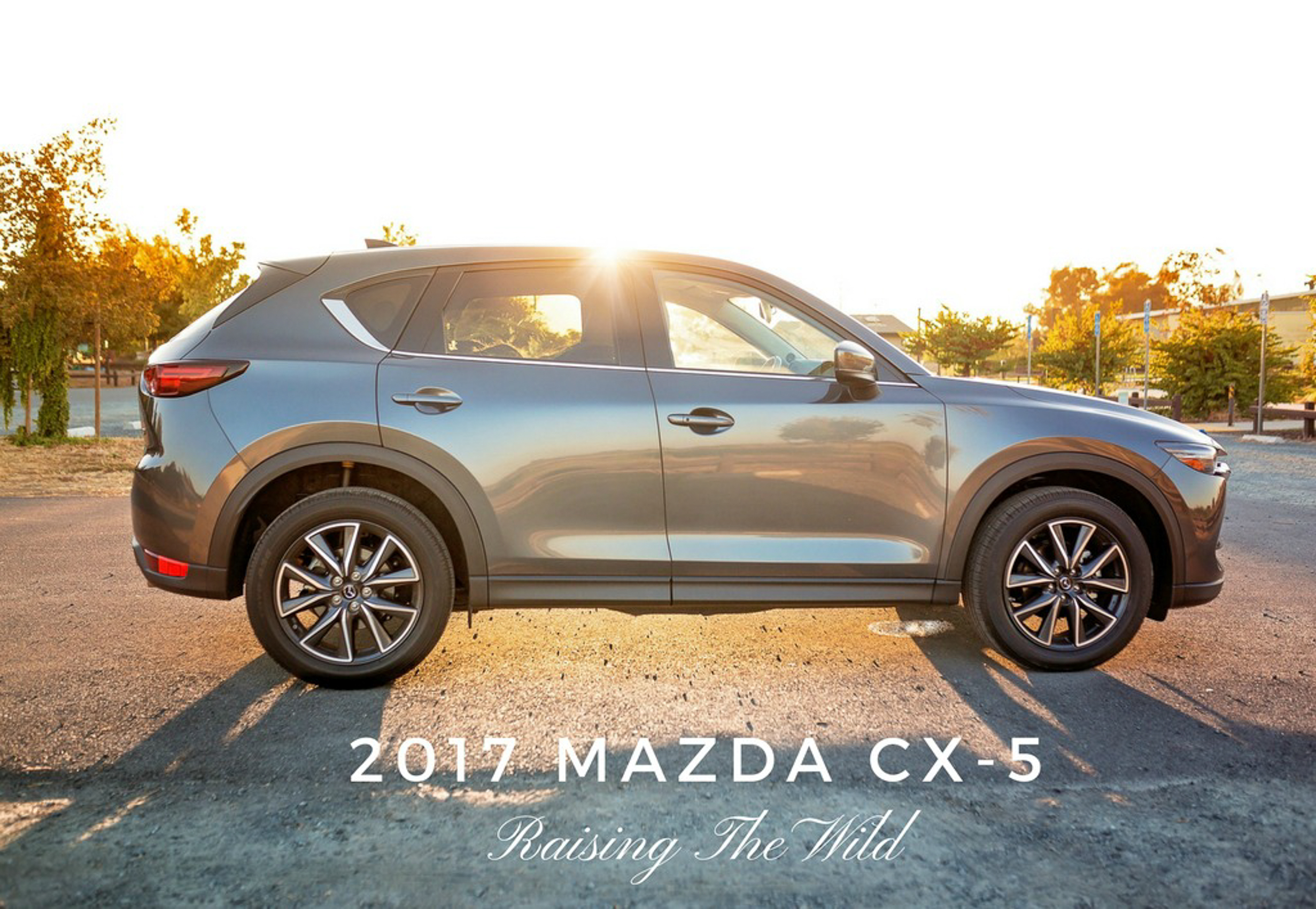 Note: I received a 2017 Mazda CX-5 Grand Touring AWD to test drive around town for one week in order to facilitate my honest review. No monetary compensation was received for this article and all opinions are 100% my own.
This past week our California weather was absolutely perfect for testing out the 2017 Mazda CX-5. Now that our family of four has grown to be a family of five, there are definitely specific features that we look for in a family friendly vehicle. I'm excited to share with you the things we loved about the CX-5!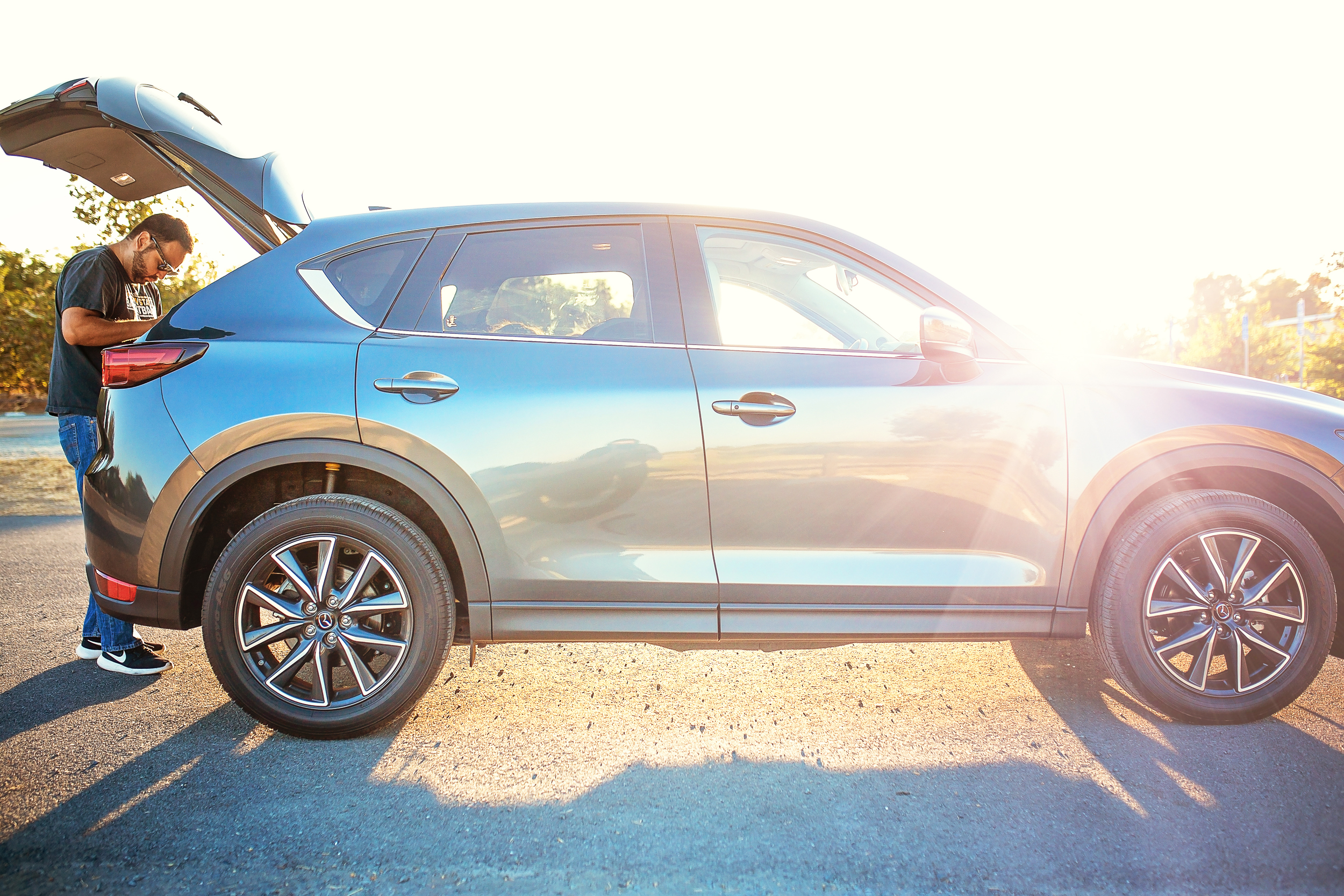 If you are not familiar with the Mazda CX-5, it is a stylish crossover, with a classy interior and gorgeous features. I mean, let's be honest, when looking for a vehicle the first thing we notice is it's looks, right? My husband and I always go back and forth on this.  His favorite quote is, "It's not about what it looks like, but what it can do." He's serious, one hundred percent serious, but thankfully we both easily came to the agreement that, at first look, the CX-5, is all around pretty stunning.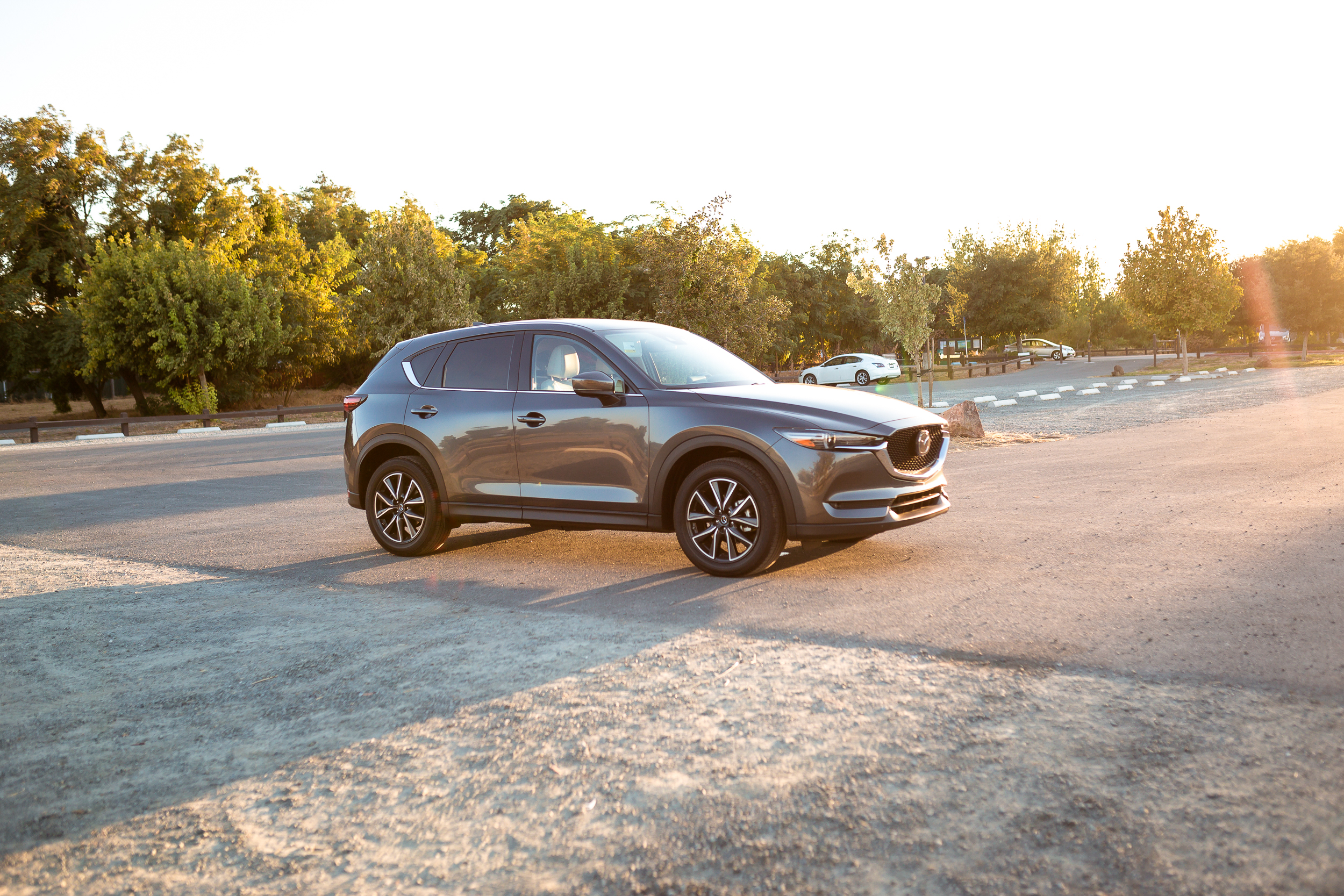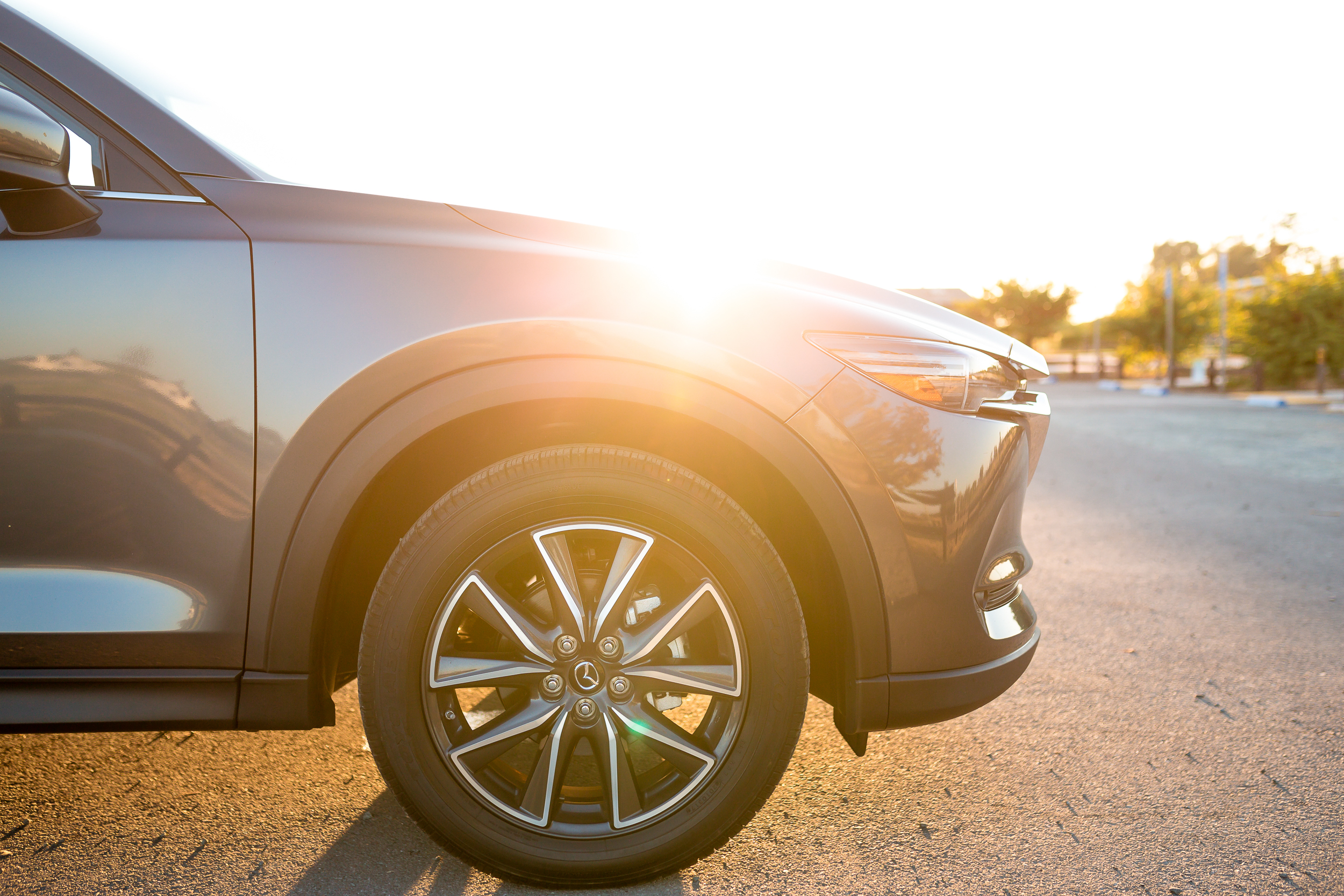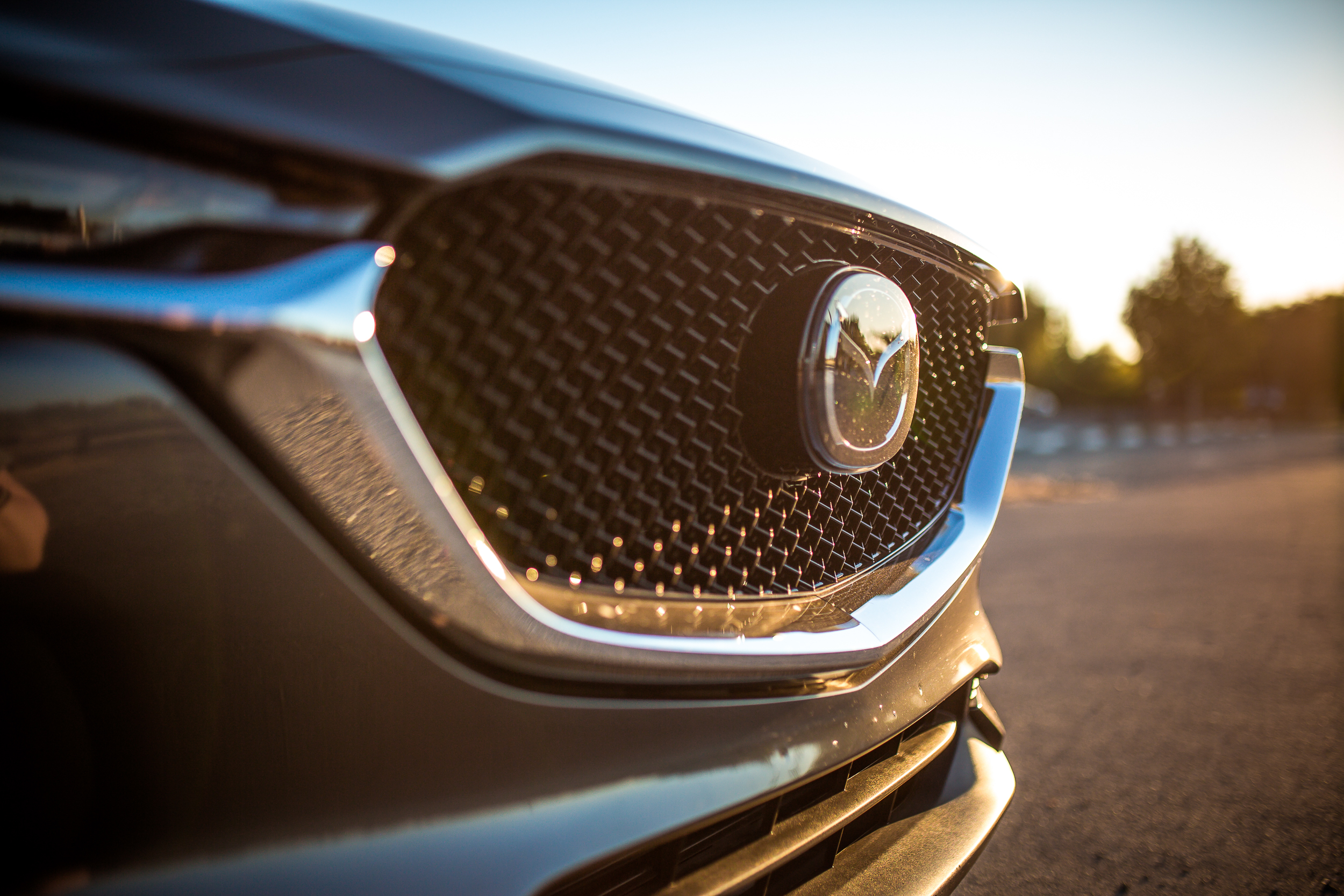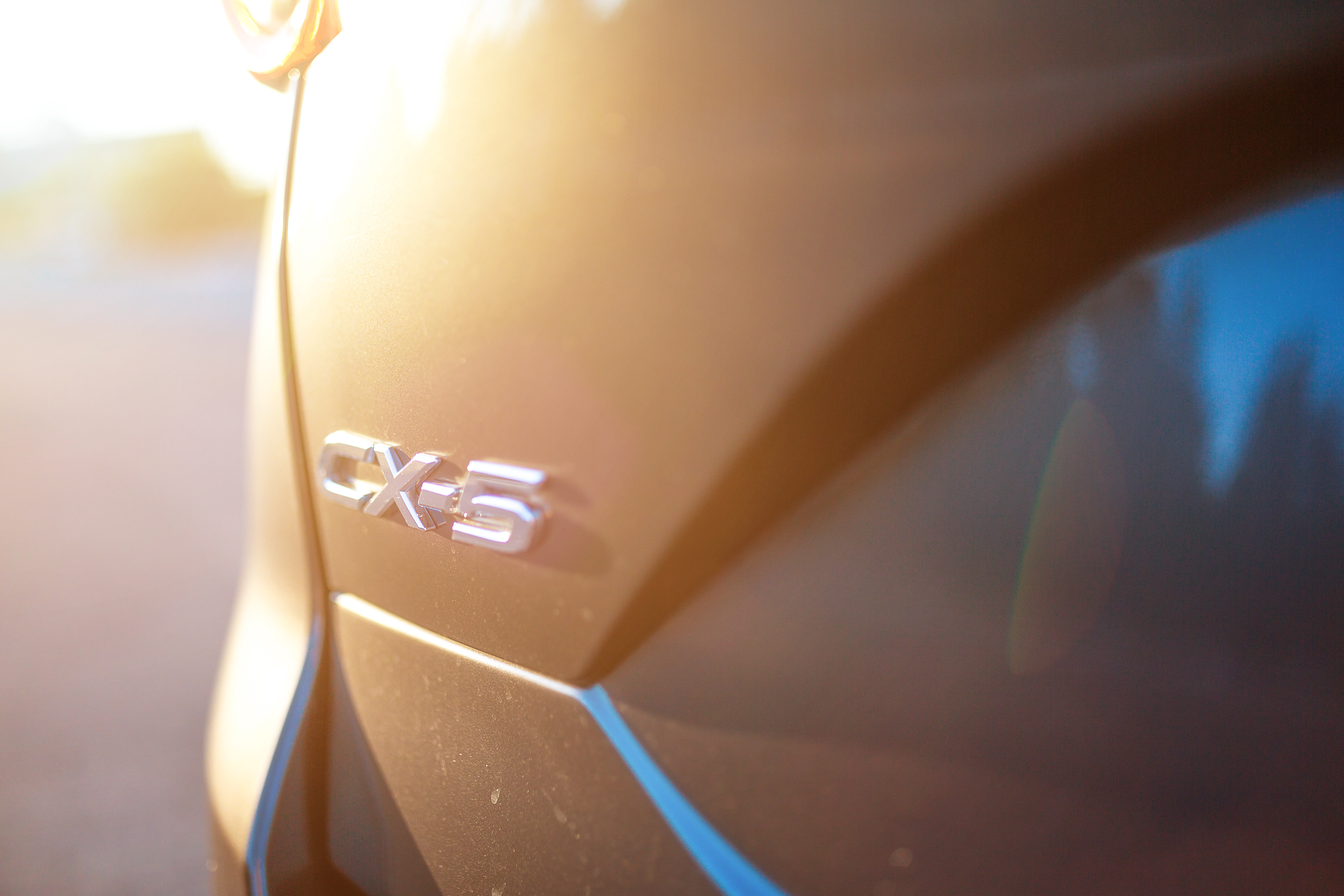 After my first few minutes behind the wheel of the 2017 CX-5, I can totally understand how this compact crossover has been such an all-around winner for Mazda. It feels like a lavish and high-end SUV but for a price that is shockingly much less.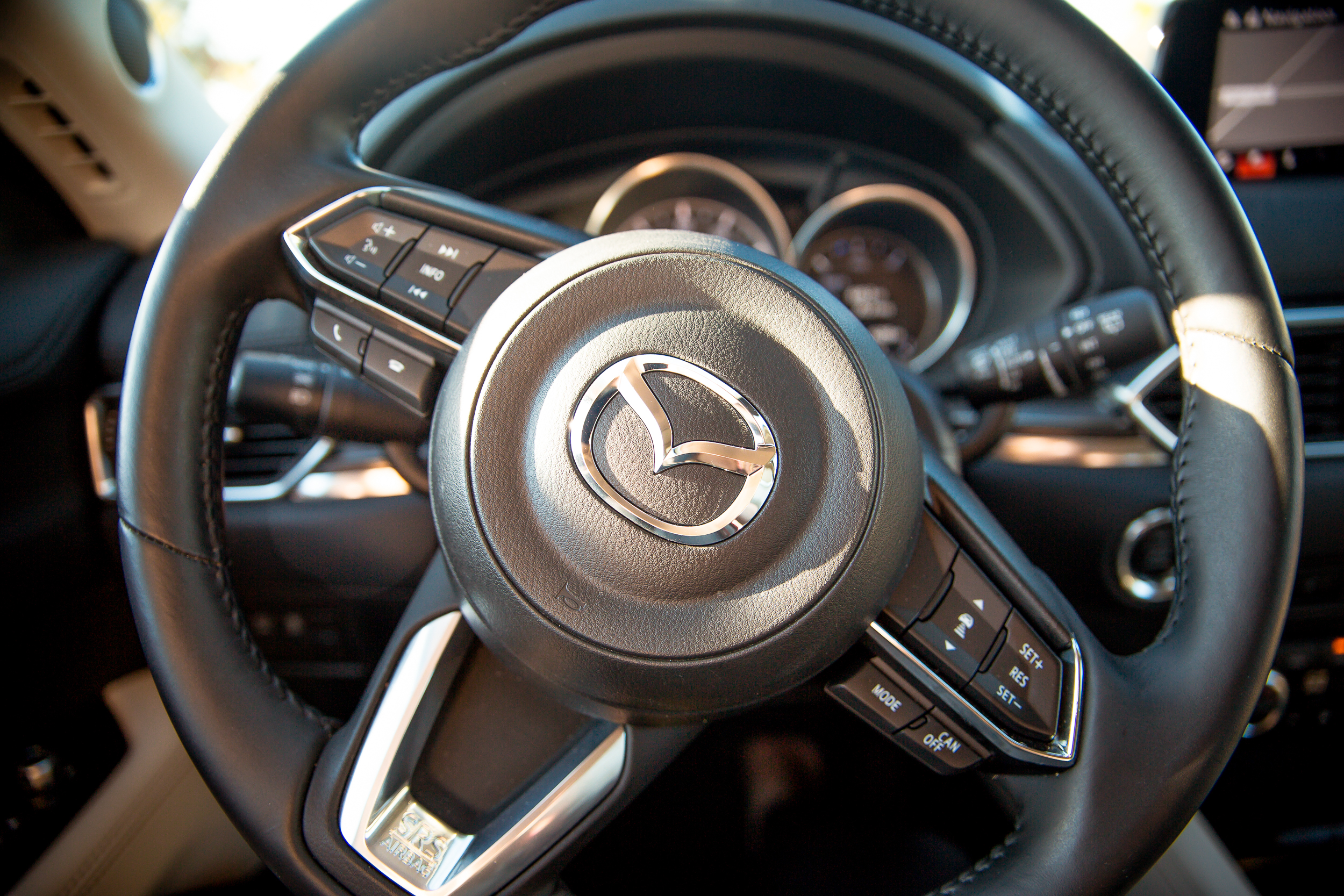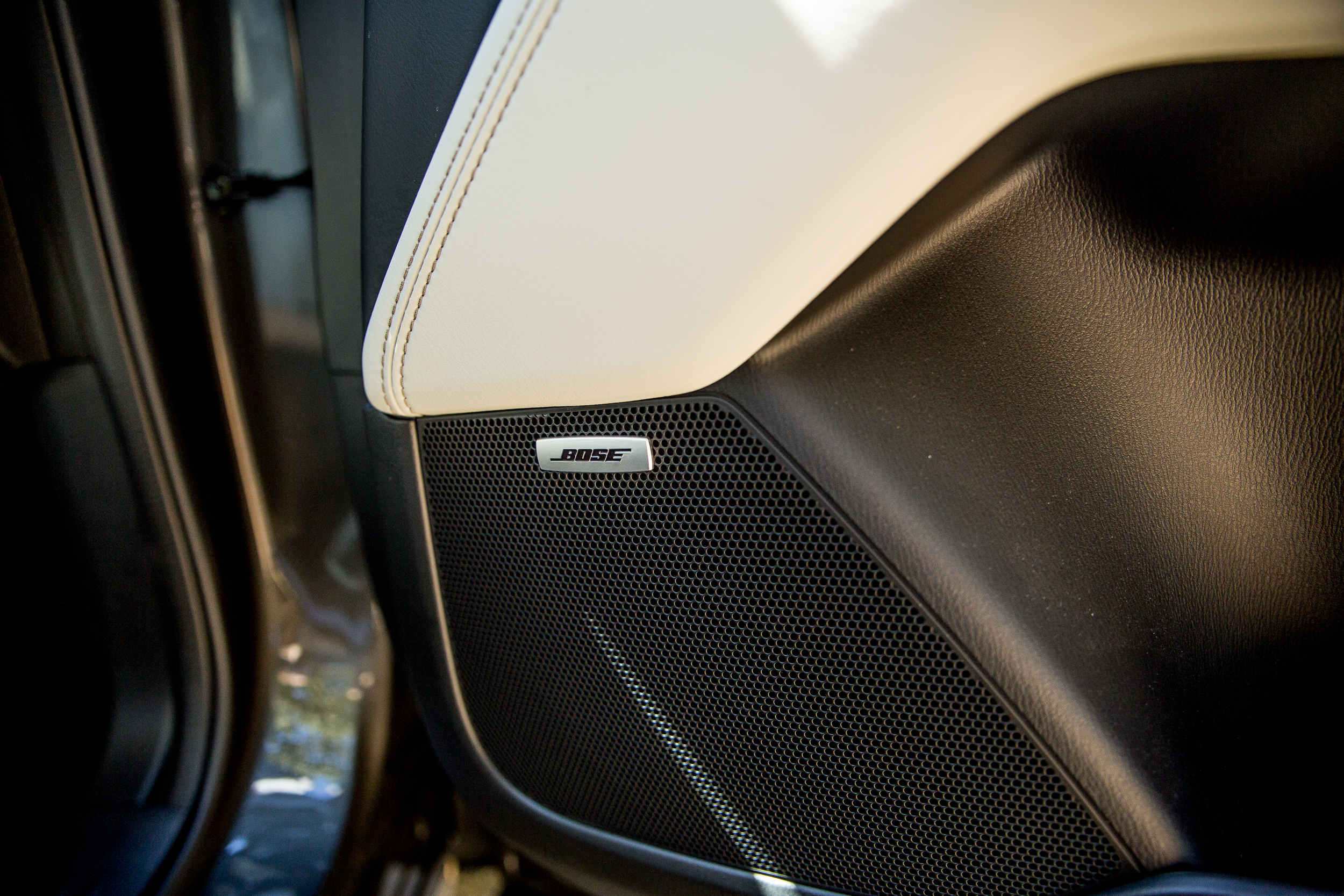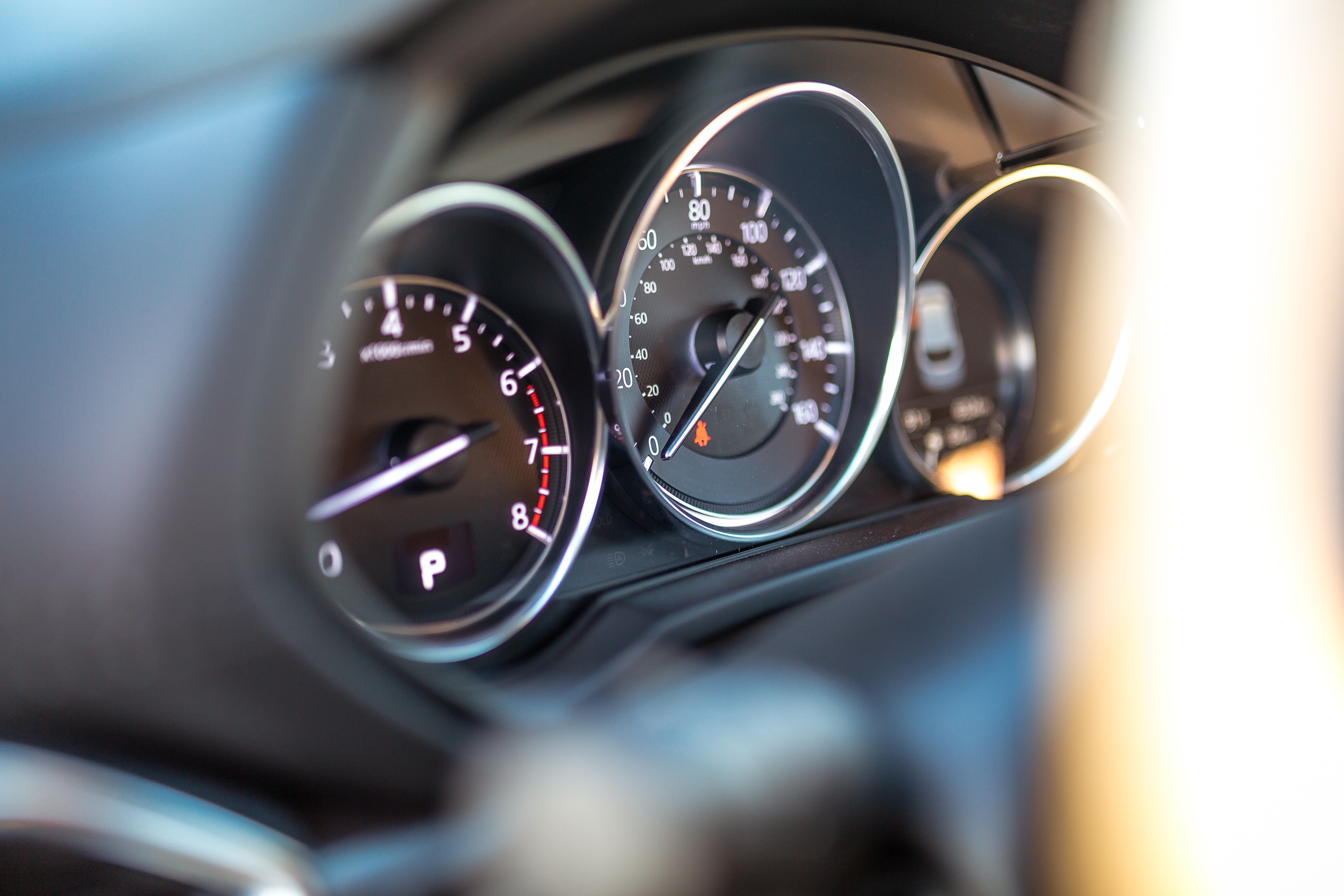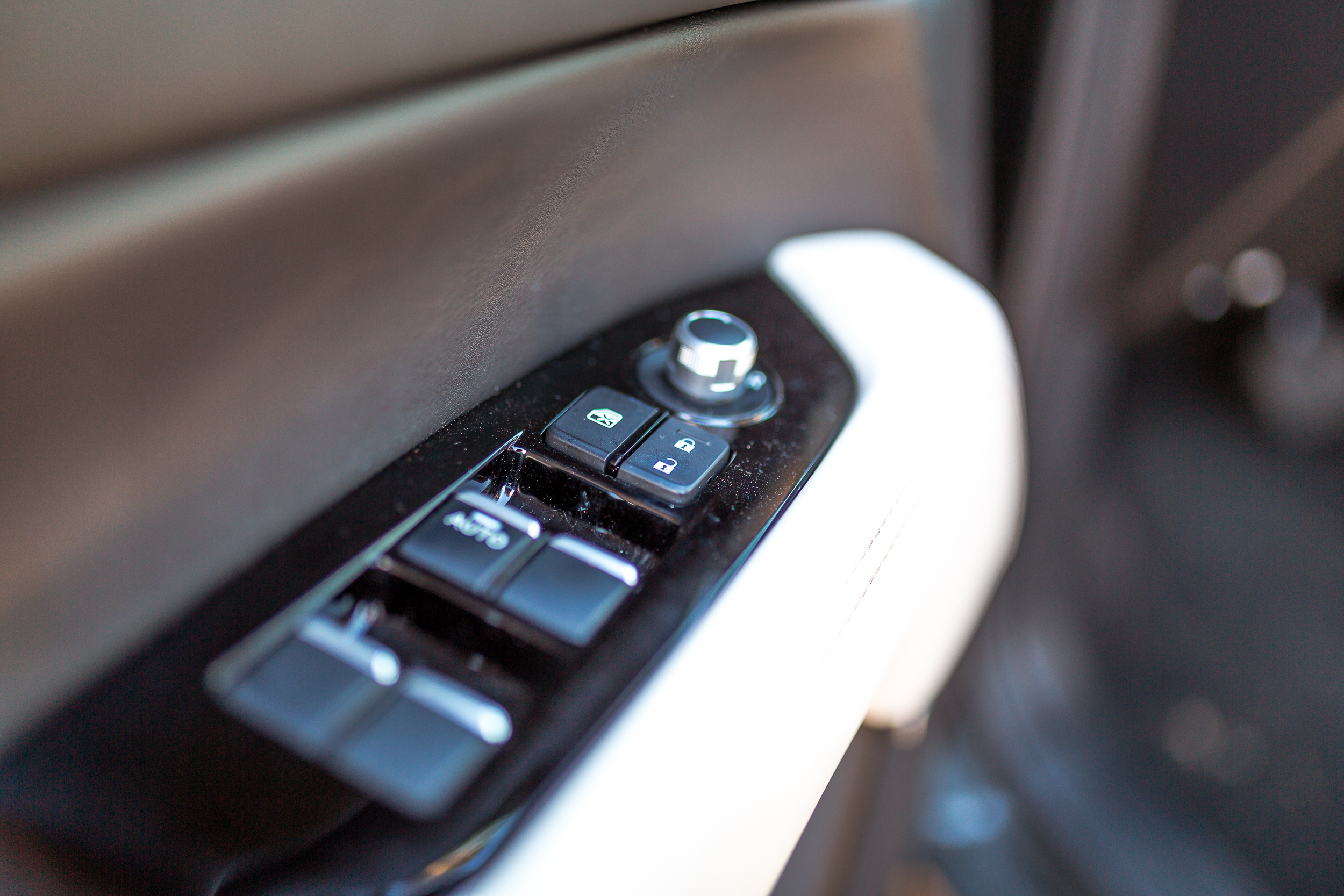 Just a handful of my favorite features on the CX-5 include the popular heated and cooled seats, not only in the front of the vehicle, but there is even the option for heated seats on the back seats as well, which is the first I have personally tried. The Windshield-projected Active Driving Display with Traffic Sign Recognition (yes, this totally was a pleasant surprise for me too), rear seats that recline and amazing comfort. This is just a few of what we loved, but don't worry, I have detailed pictures of everything!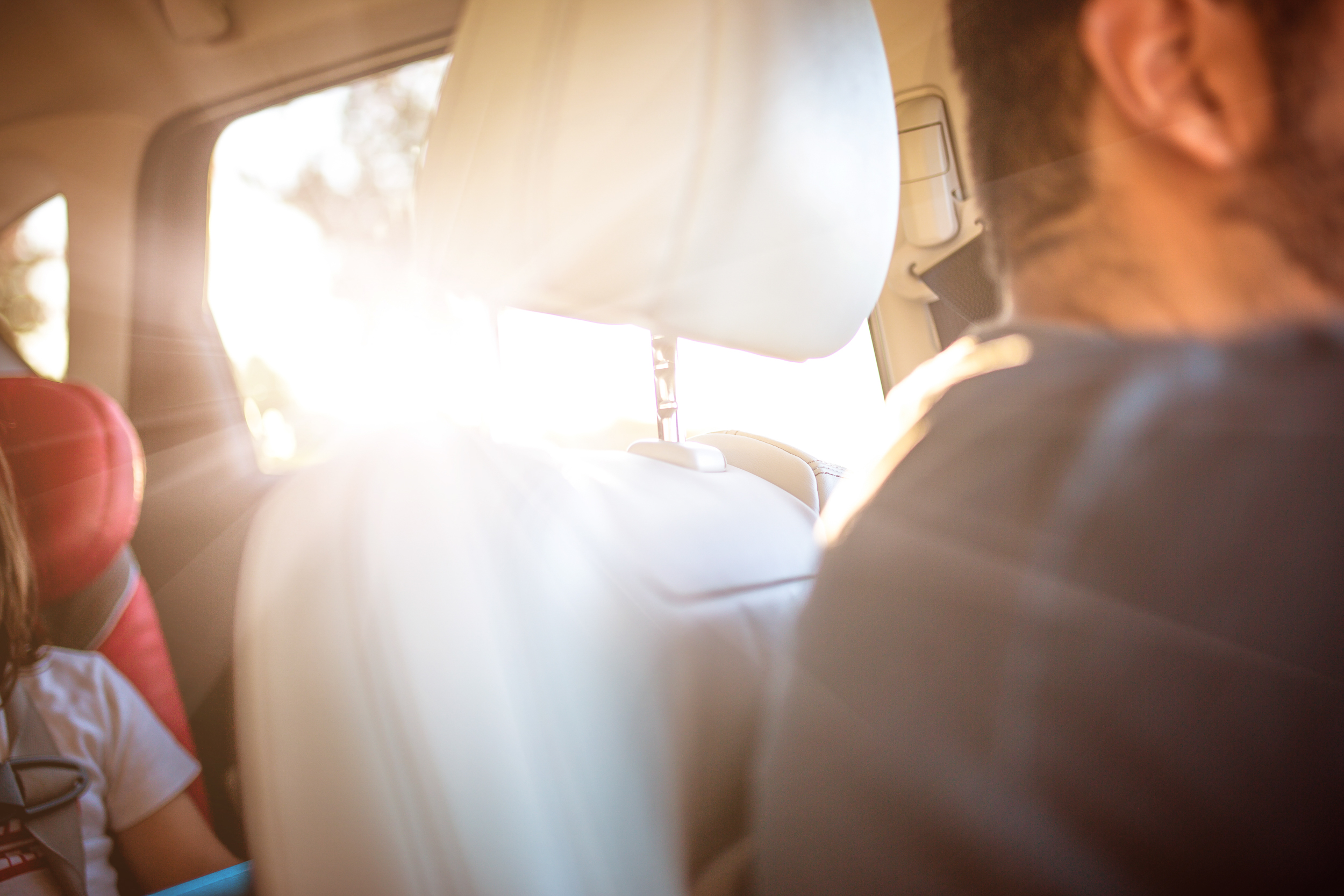 At first drive, you really notice the 2.5 liter, four-cylinder engine. When merging onto the freeway, its more like gliding with how comfy the seats are and the exceptional steering is really noticeable. Again, this is typically something you would see in higher-end vehicles, so it is definitely a surprise to see such upscale features at the price point of the CX-5.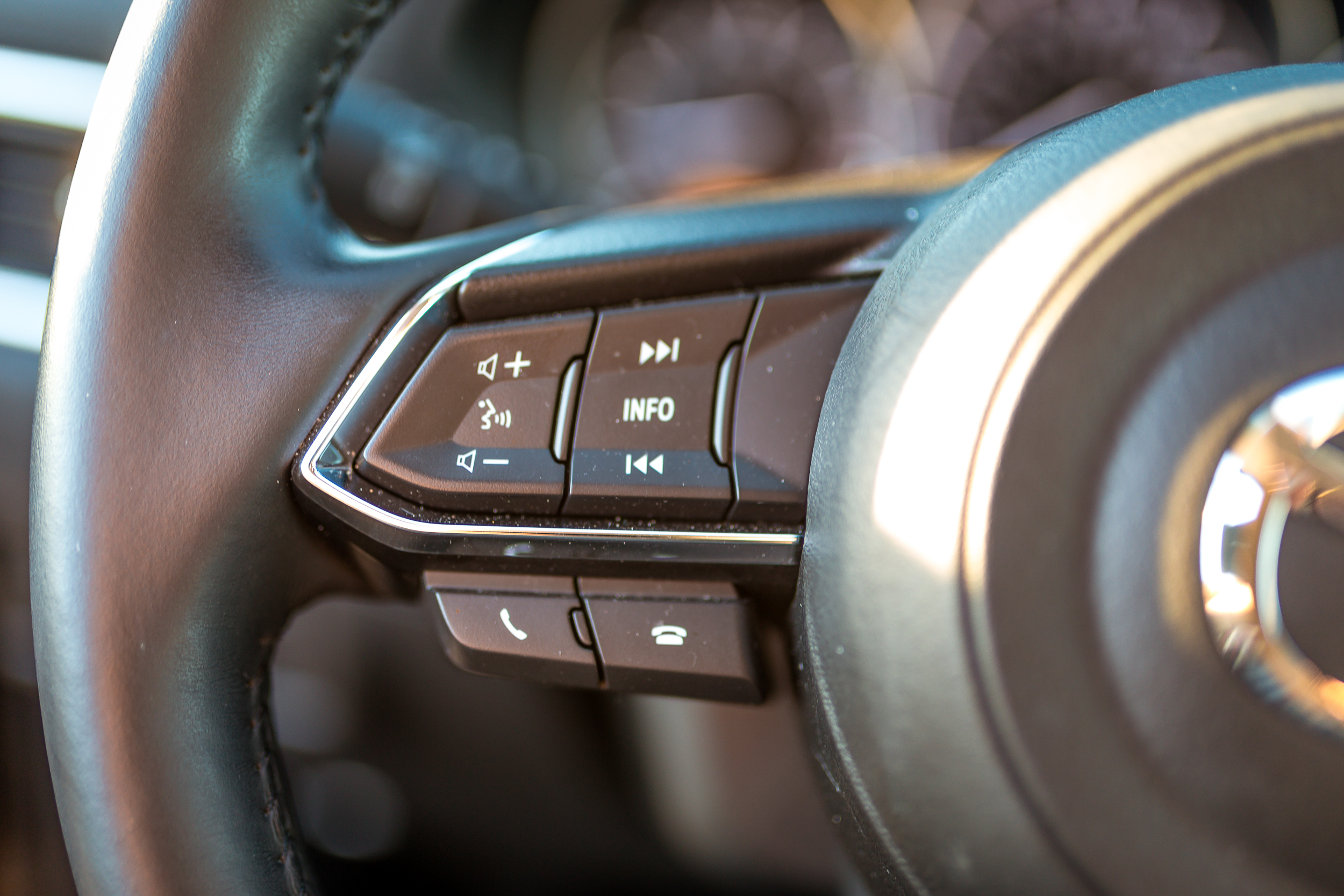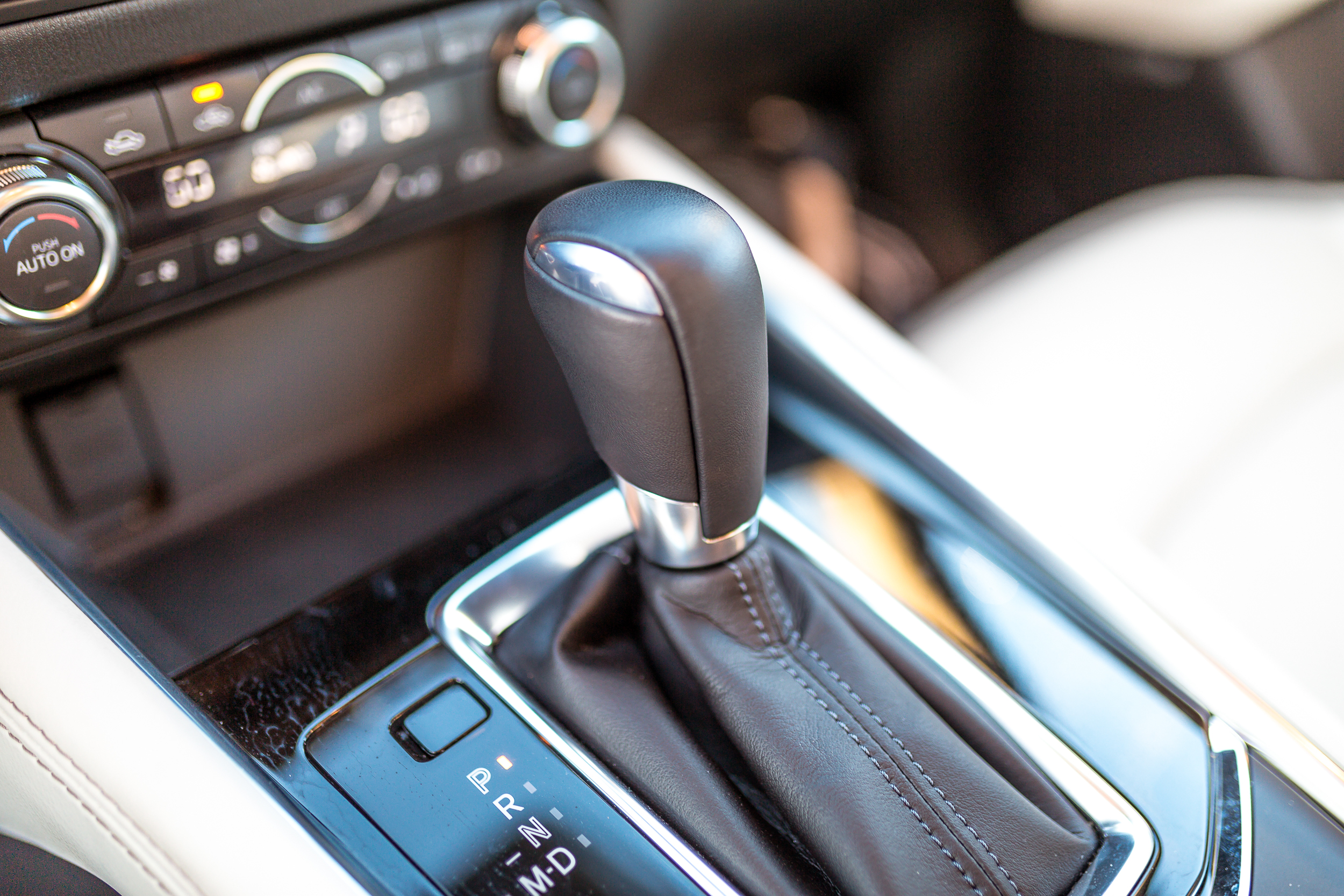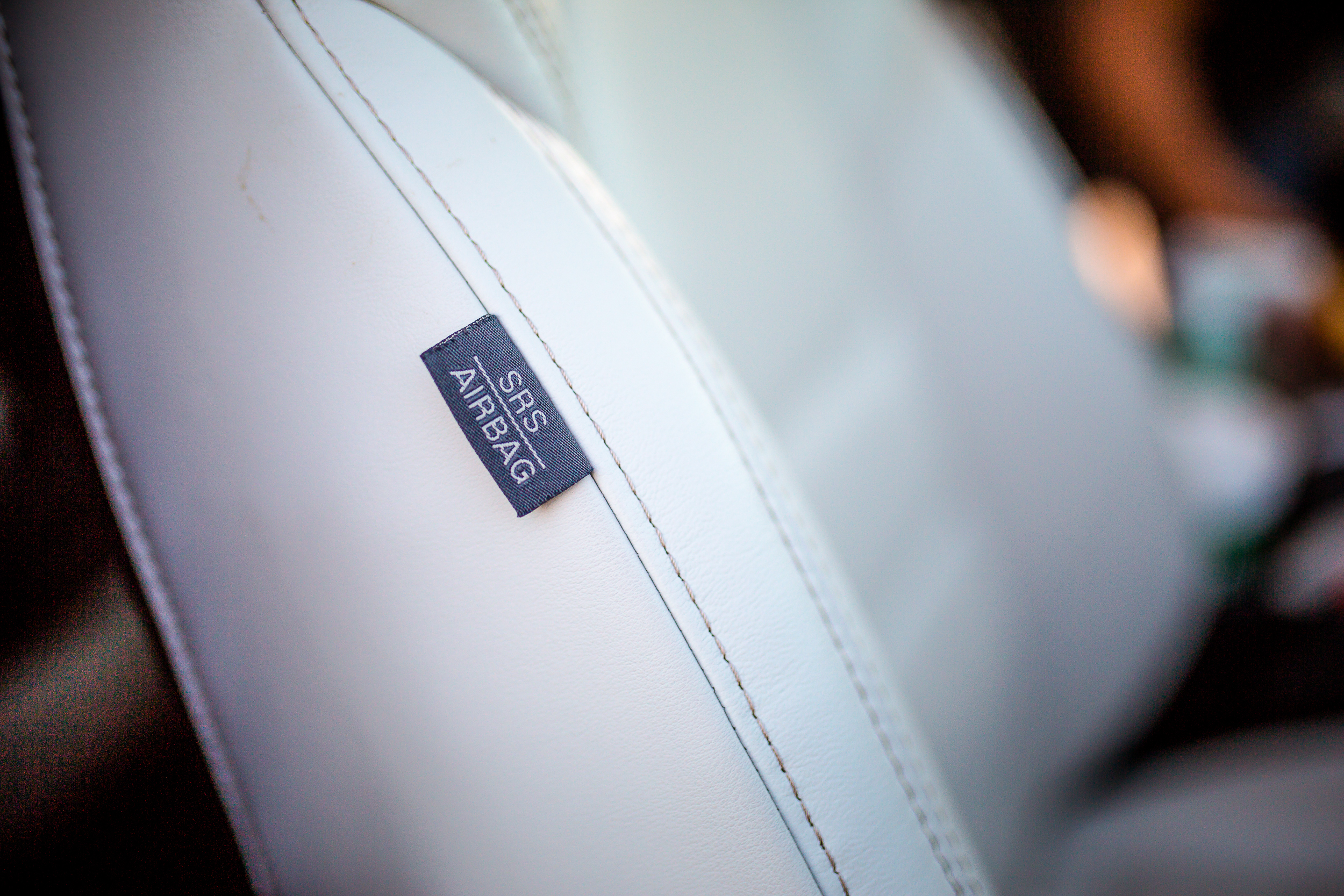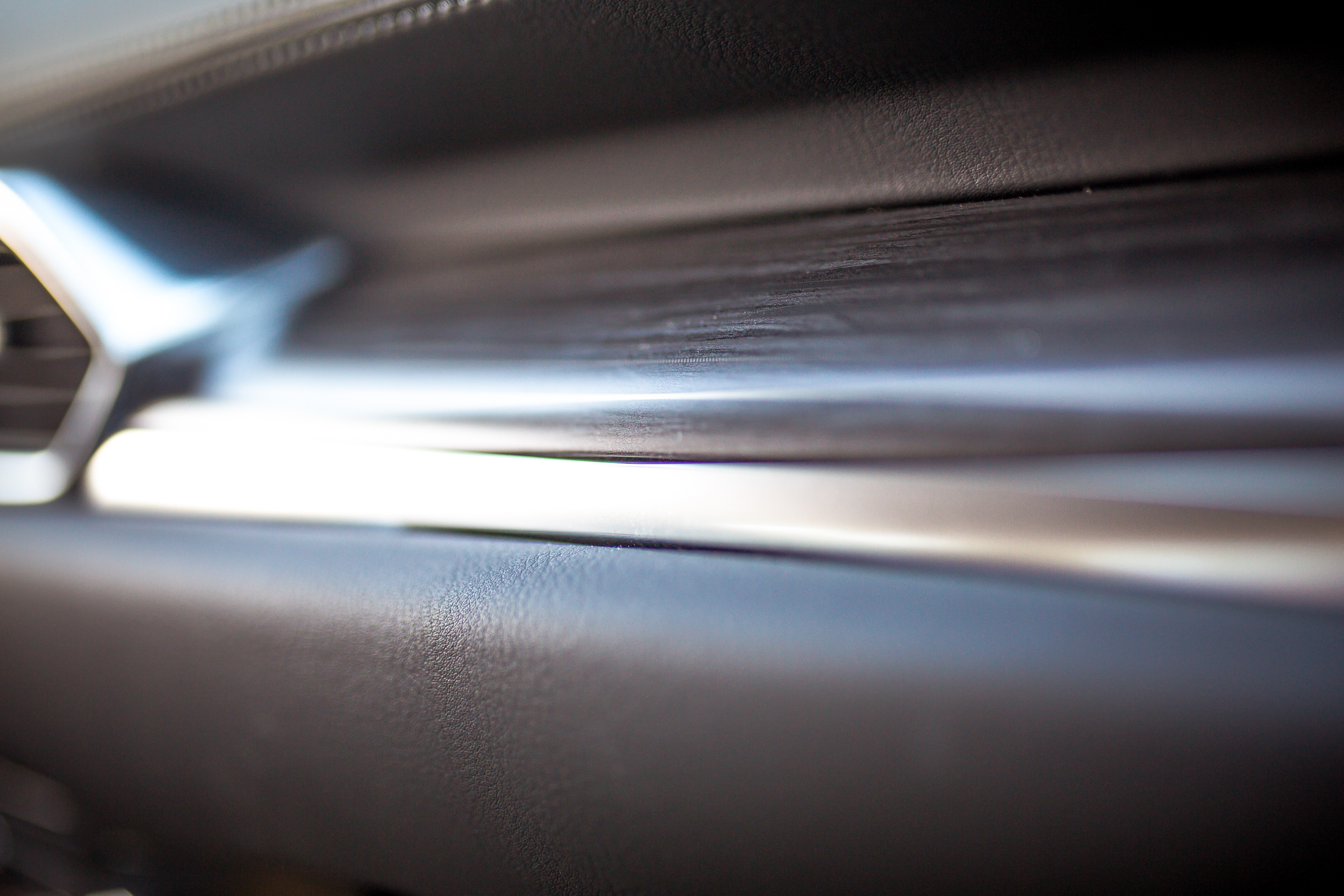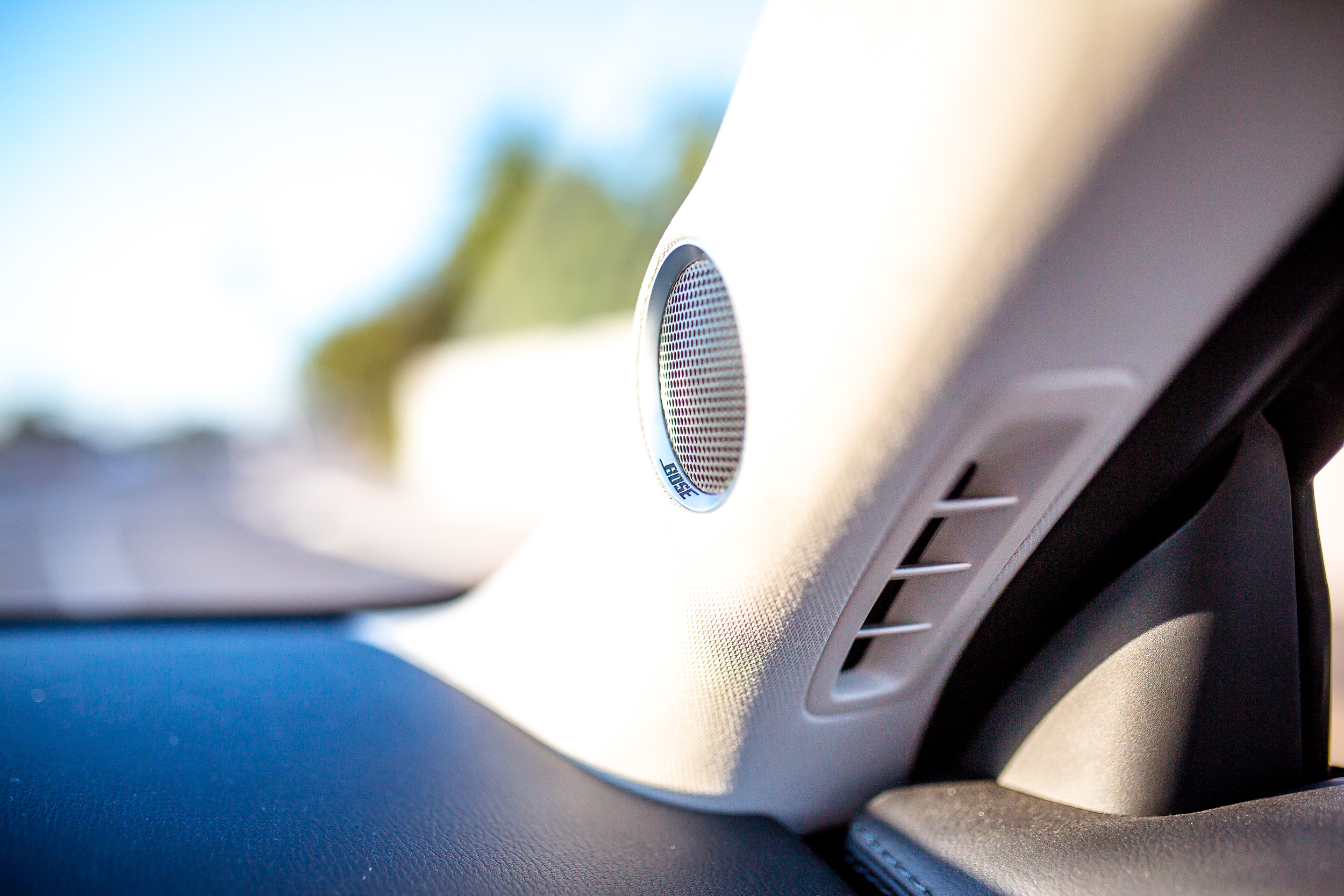 The white leather interior of the CX-5 is a huge step up in my opinion from last year's model.  The two position memory driver's seat and the six way power adjustable front passenger seat are also qualities we love in the CX-5. The heated steering wheel and rear seats are not something I thought we would find at this price point that was a pretty big surprise.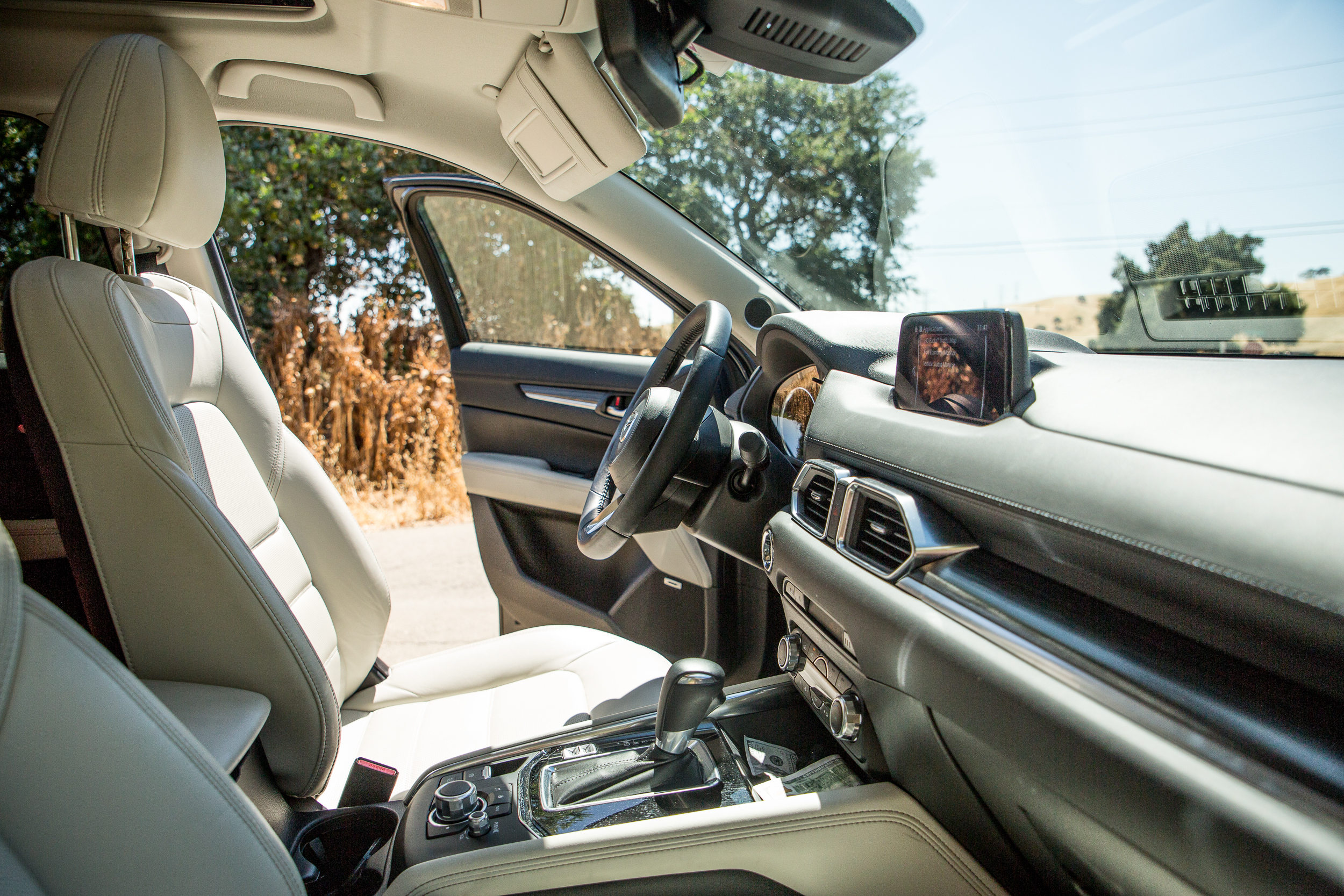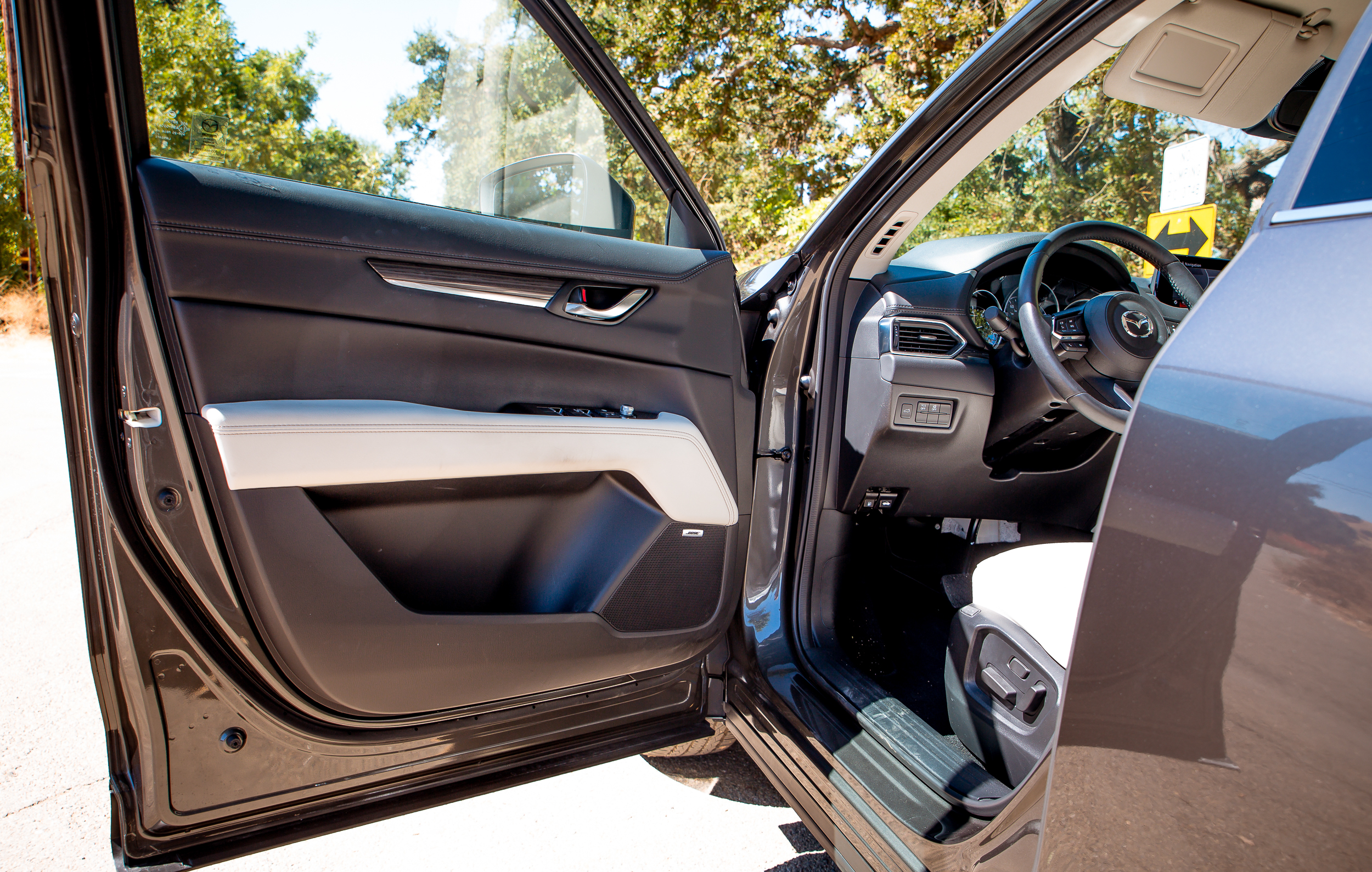 I personally really appreciated the infotainment controls that allow full access to the radio and touch screen without having to adjust the seat or lean forward while driving. I really hope that this carries over to all newer vehicles across the board as it is such a convenient advancement. The small nob controls the entire menu, including the navigation and radio. We found the navigation and Bluetooth capability very easy to use which is always a plus.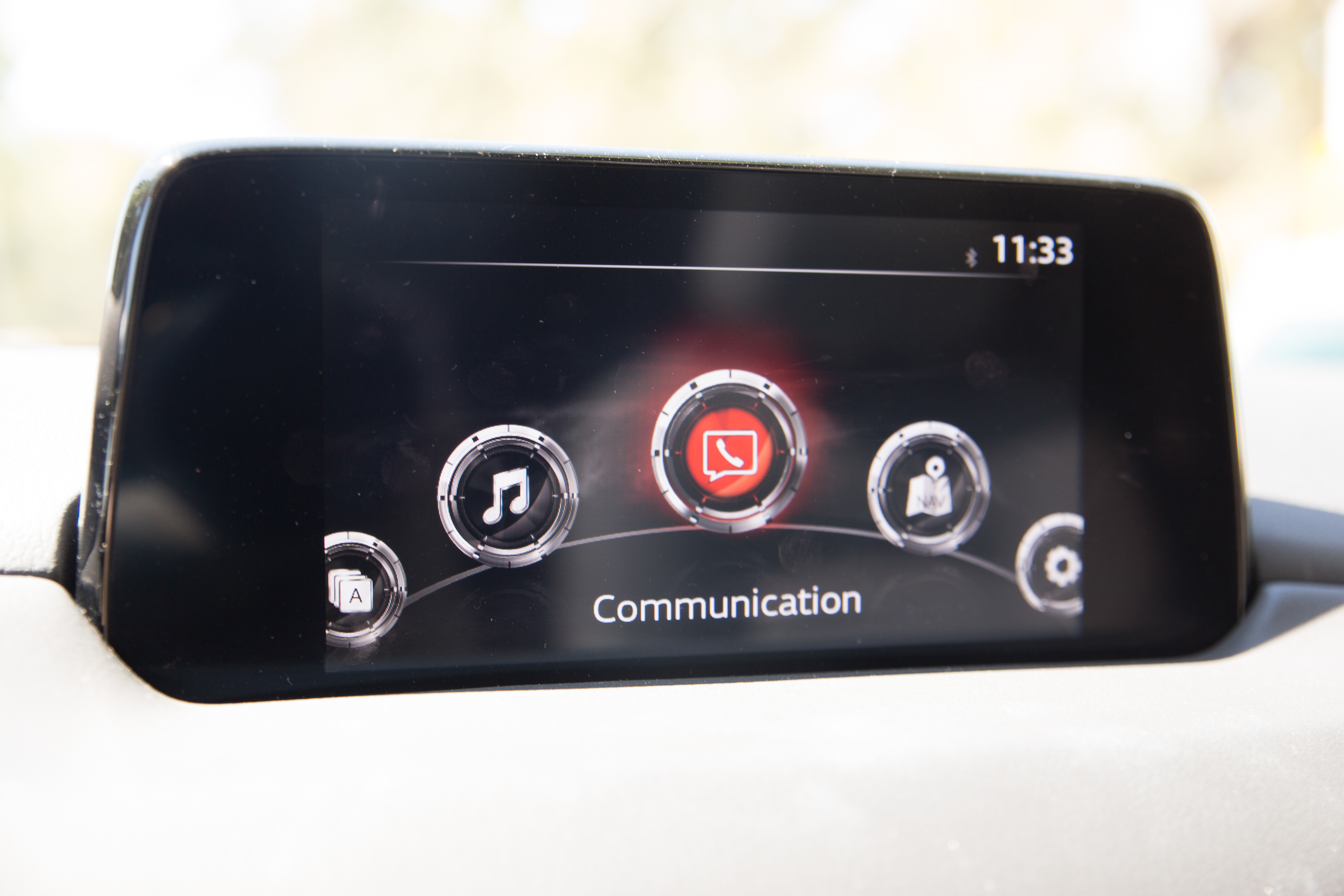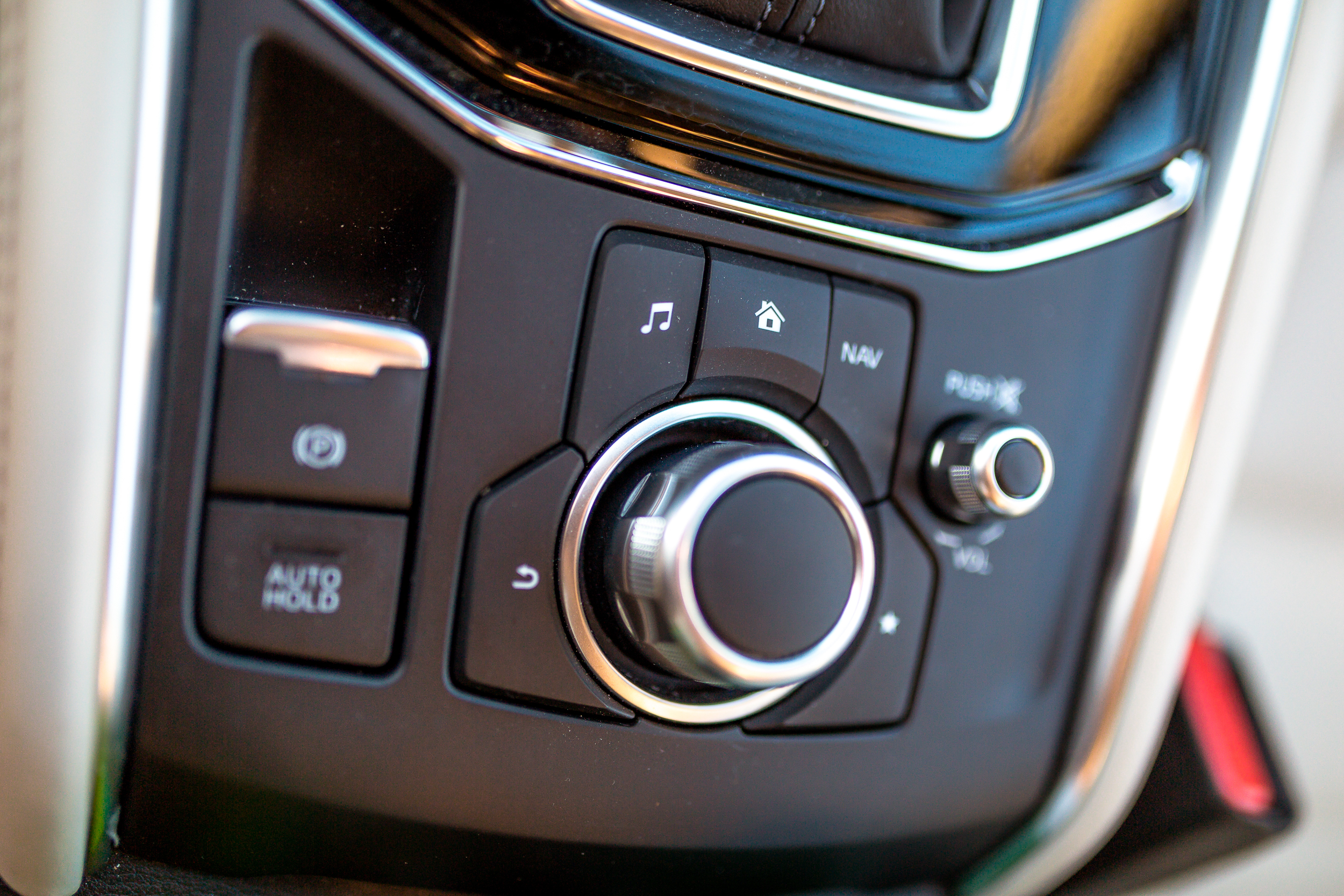 The heads up display also has a few tricks up its sleeve. Mazda calls it the "windshield-projected Active Driving Display," which is the same thing, just a little fancier name. It shows your speed and navigations directions, but what I was impressed by was the traffic sign recognition. I didn't actually notice this at first, but the heads-up display with actually show a photo of a stop sign as you are going to approach it, so you can focus on the road. Sometimes it's the little things that really can be the most impressive, and this was one of them that I wasn't expecting but safety wise, this was really nice to see.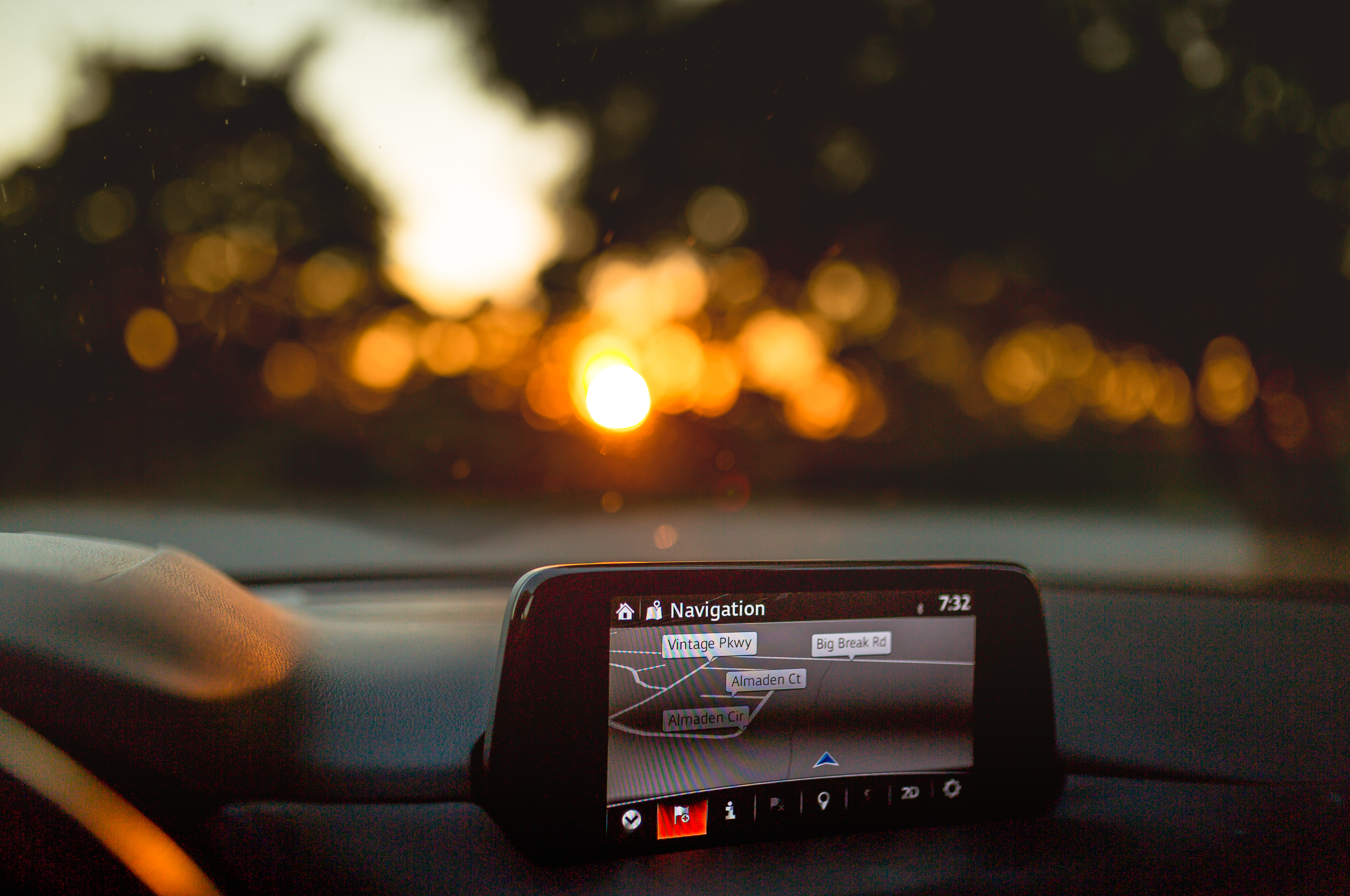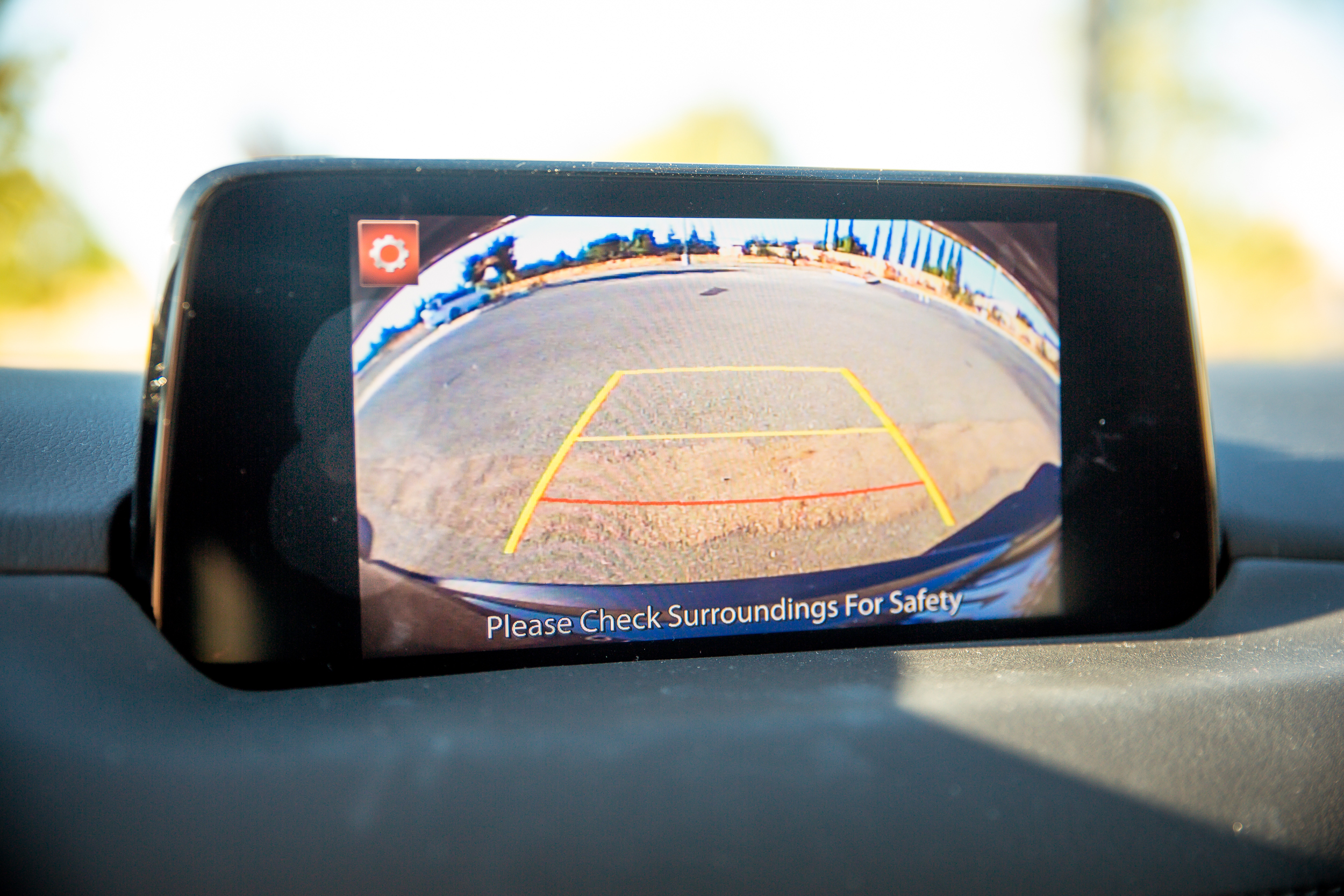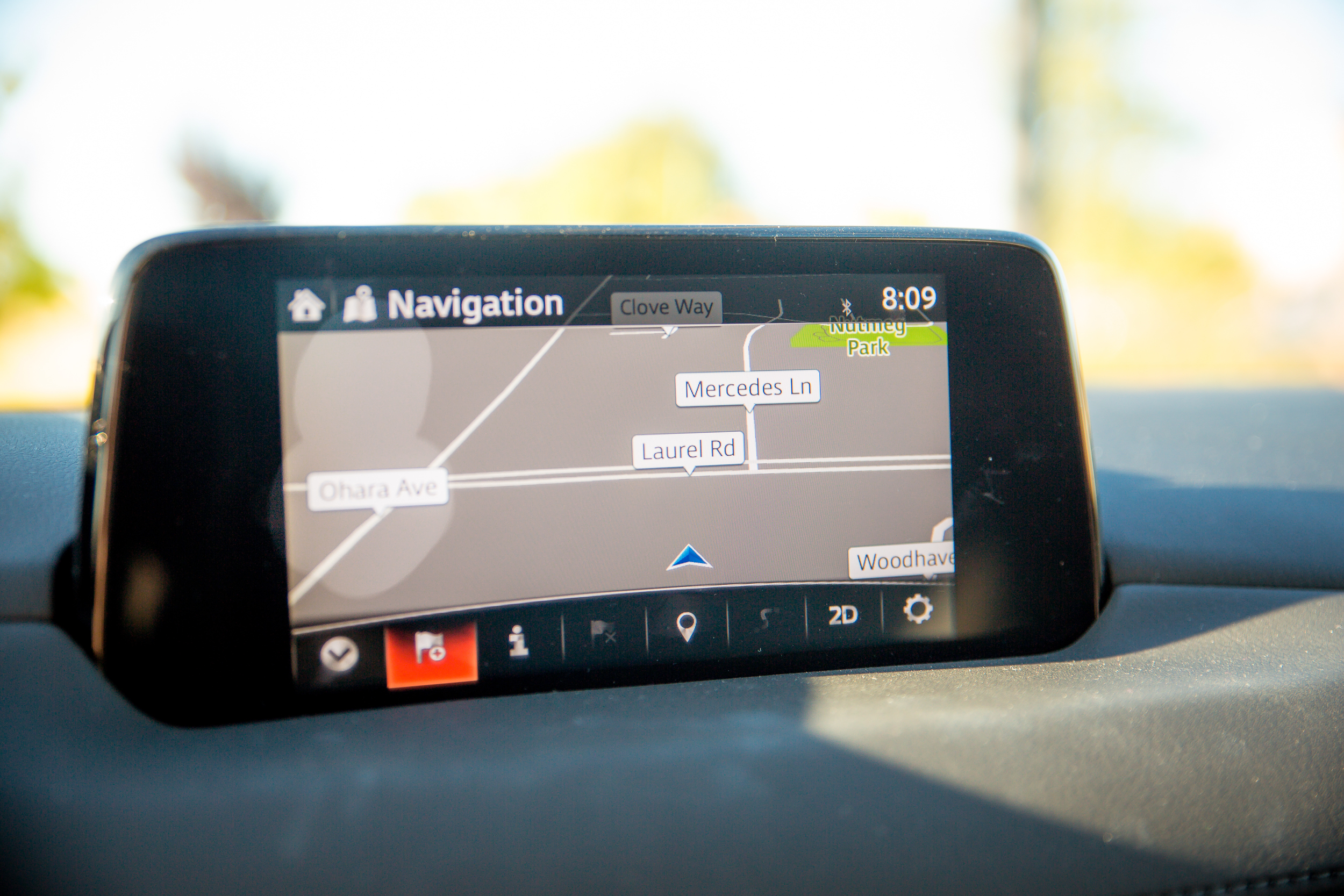 One thing we noticed before installing the car seats is that the 2017 CX-5 has two additional USB outlets in the back seat, bringing it to a total of four. These are located in the arm rest when you lower it. Both of my children have their tablets to read and play learning games on when we go on lengthy rides, so I'm sure that most parents I know can really appreciate this. For a smaller family I think this is very useful, but unfortunately we weren't able to take advantage of it being that we needed all of the 3 seats in the back for our children, so we did not have access to these. You also will notice the cup holders and the heated seat buttons, also a pretty awesome upgrade.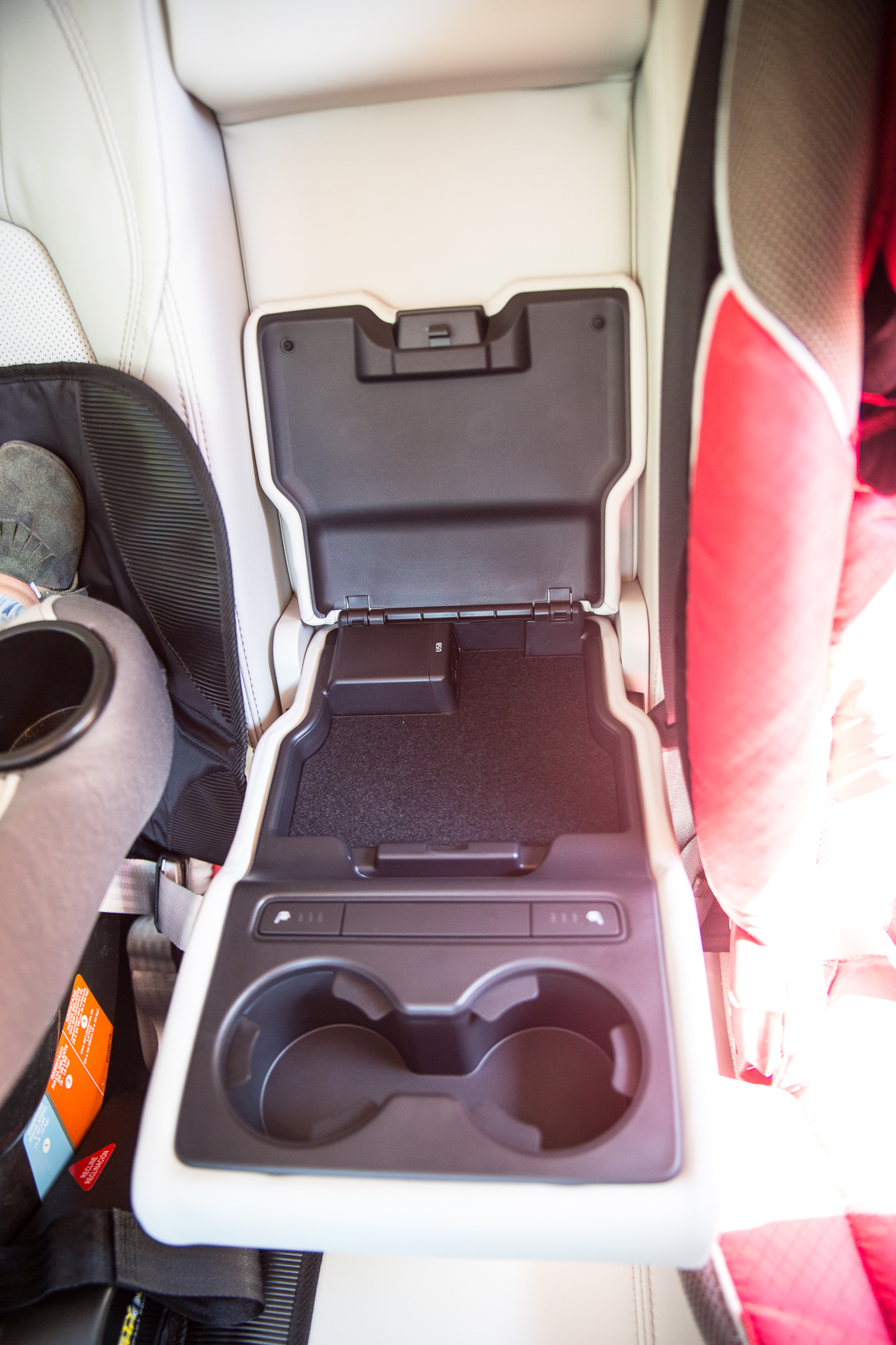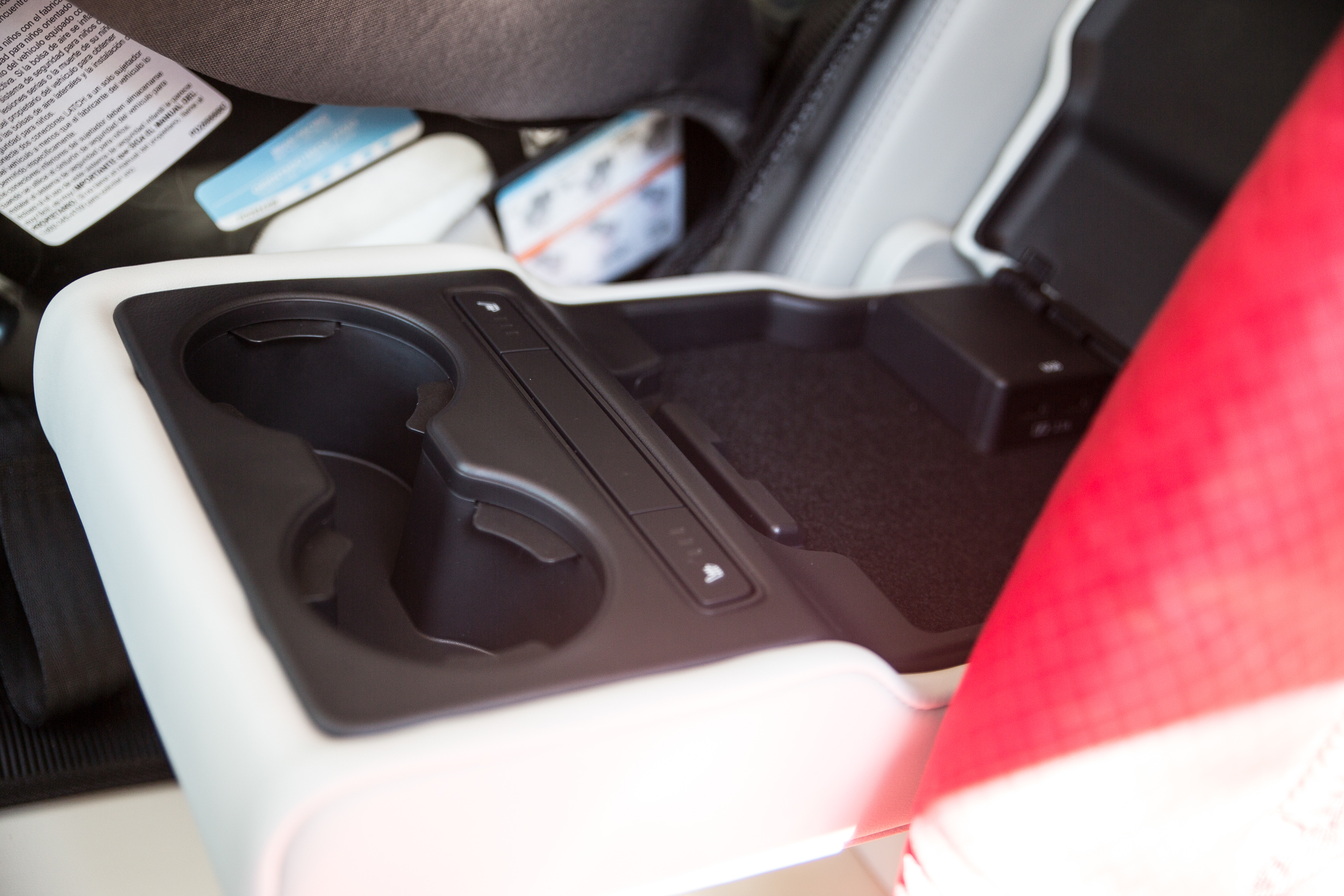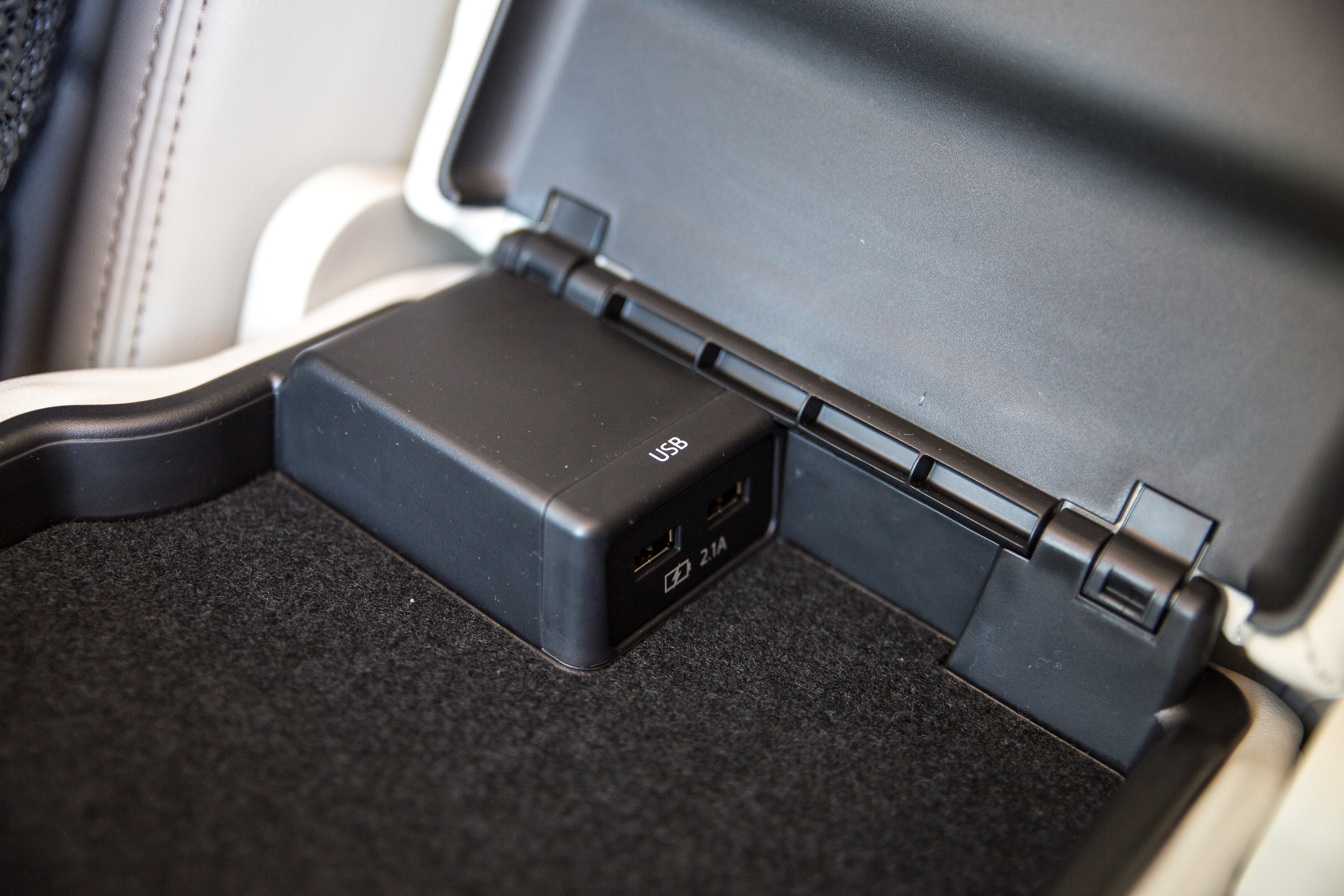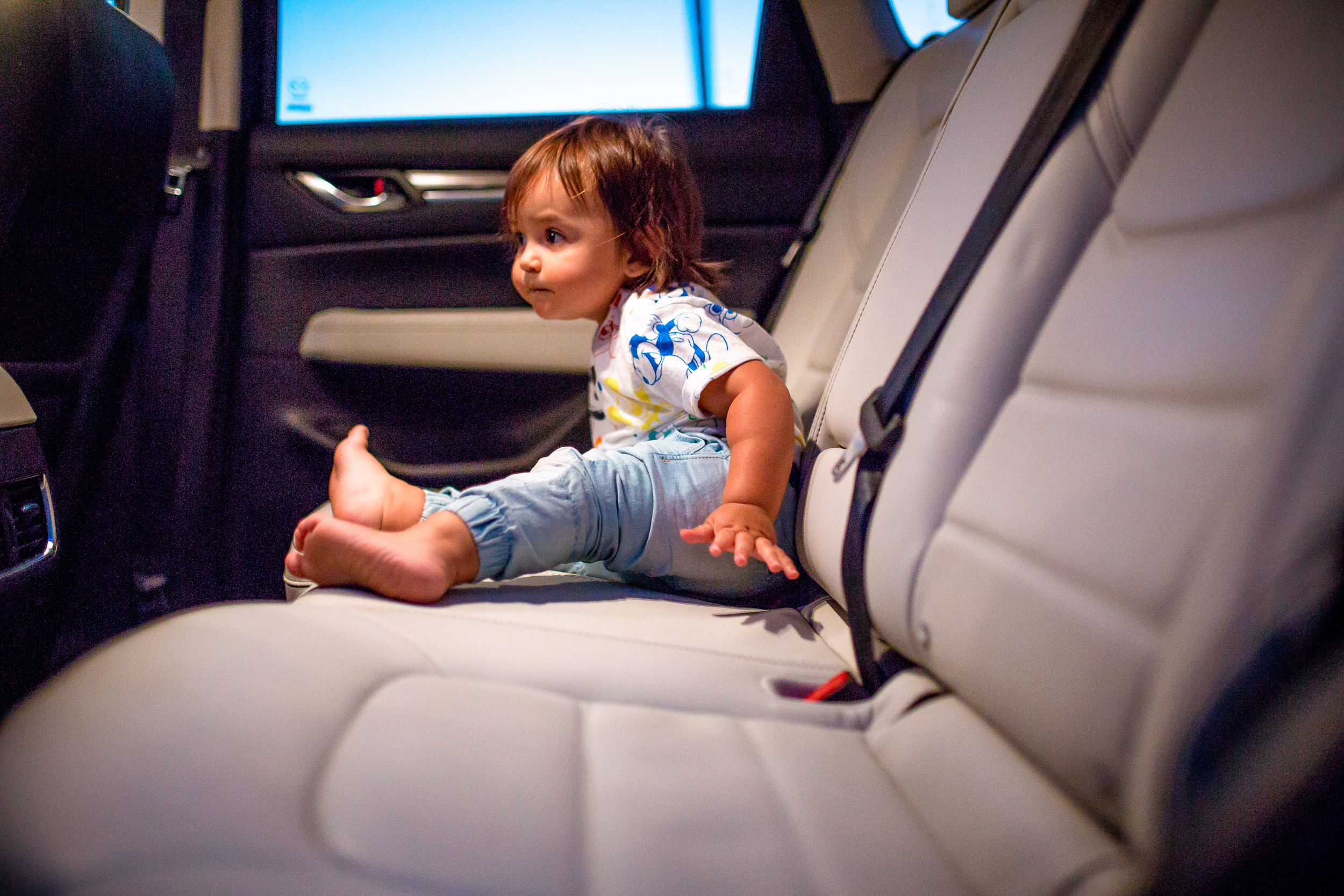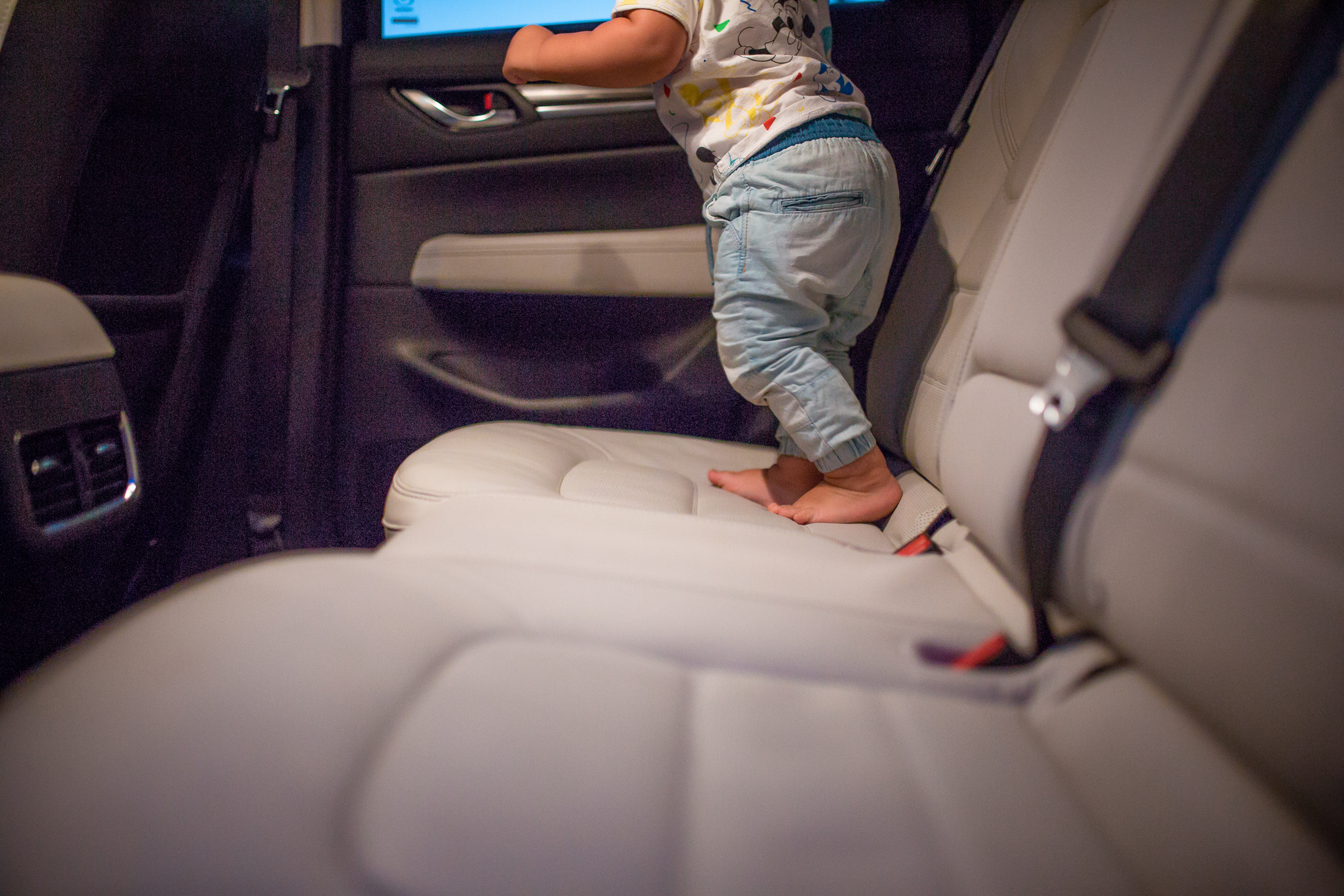 The rear seats now have a slight recline for a more comfortable seating position and each of our children's car seats and boosters were very easy to install, big high fiver for Mazda on that one! Only downfall I would say to this would be that if the infant car seat is installed on one of the passenger sides, you cannot have a very tall person in the seat that sits in front. My husband was not able to set his seat back far enough to be comfortable, because it was touching the car seat. We were able to switch the car seat around as I am much smaller, so this was our work around, but if you have two tall drivers and an infant car seat, this could cause an issue for you.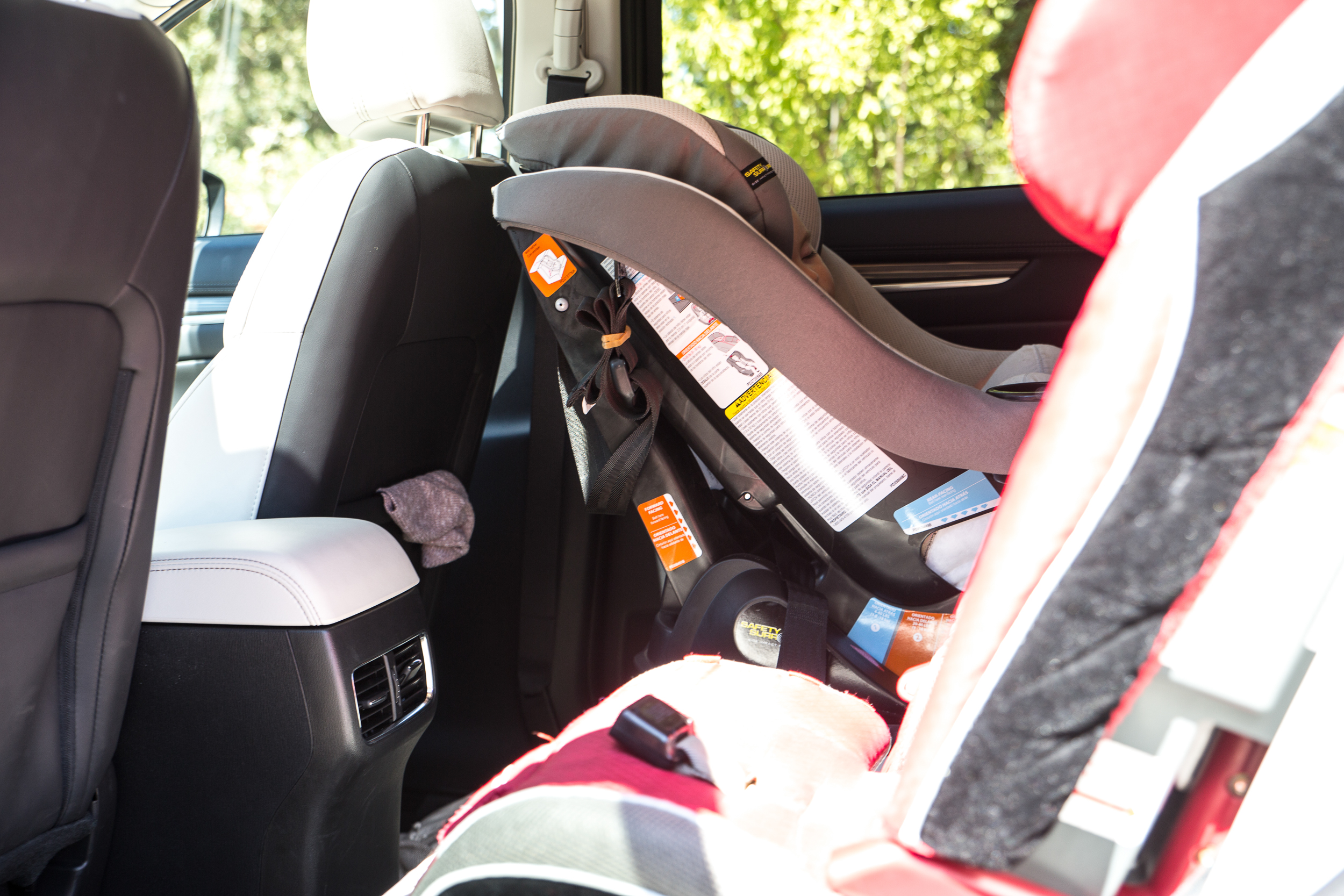 The air-conditioning vents are also a newer feature. Unfortunately though for us the air vents are located on the back of the center floor console. I would of preferred to see an air vent above so that it could reach the entire back row evenly. For example, our 15 month old is still rear facing in his car seat and he will be until he is at least 2 years old, if not older. Having his rear facing meant that he did not have access to the air vents, as they certainly didn't reach him. This posed a problem during our drive to Santa Cruz, being that it is about a 2 hour drive and on this specific day it was 103 degrees out. Our older children were just fine, but halfway through our drive we had to turn his car seat around so the vent could reach him because he was soaked in sweat. Even though we only turned him forward facing for a short while as we were close to our destination, it is not something I would recommend doing and honestly I was a little hesitant about. I would like to see an alternative option in the future to accommodate all passengers.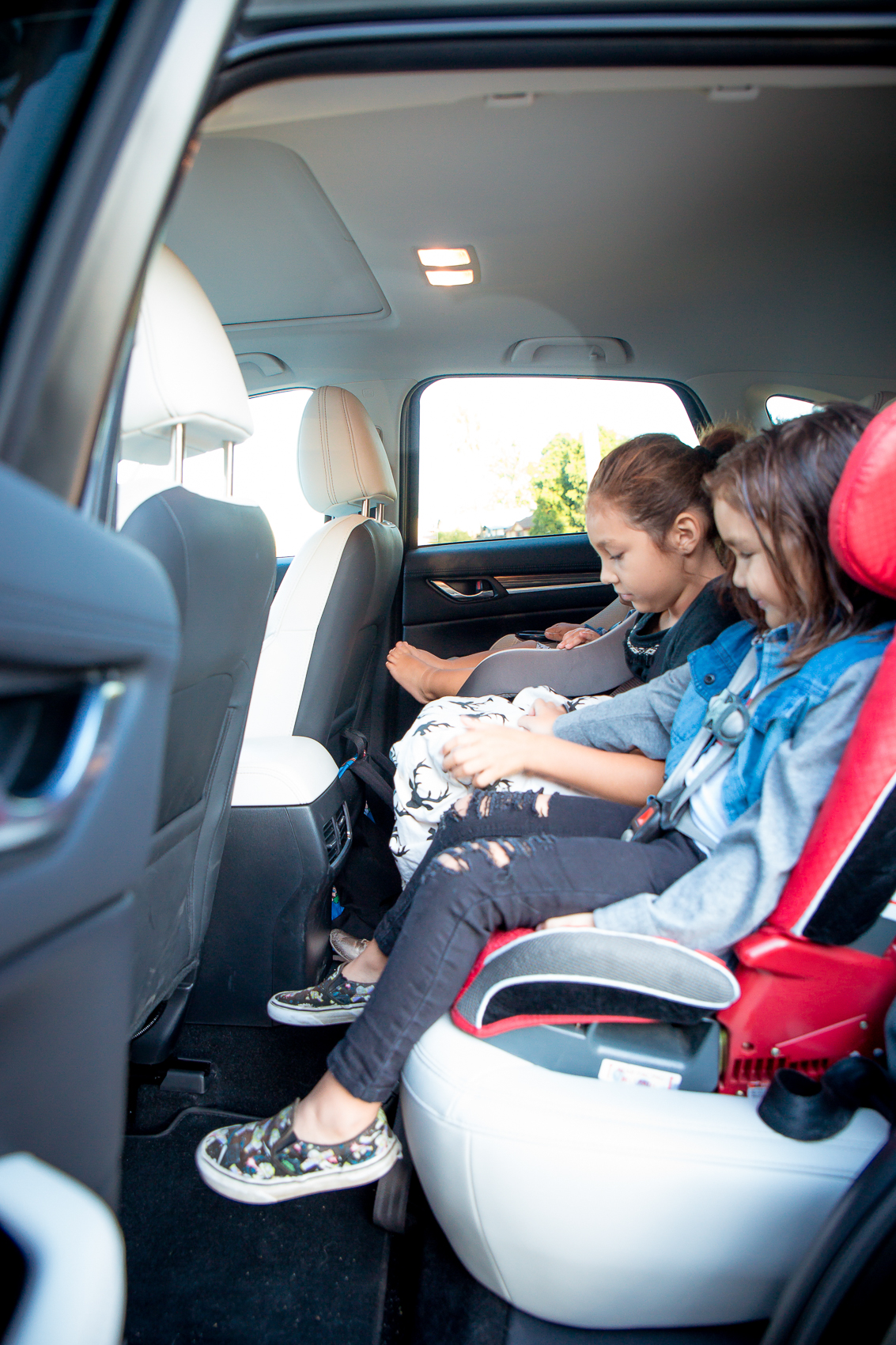 This however would be in most vehicles, so I am not knocking Mazda for this, as we typically only see ceiling air vents in larger SUV's. It would just be nice to have that option. One of our favorite car seats is the Diono, and if you do need to have 3 children in car seats, I would highly recommend their seats as they are built well and you can easily fit 3 in a back seat,no problem without compromising safety.
We also noticed a substantial size difference in the legroom when my children were in the second-row passenger seats. I couldn't believe how much room I had to install all 3 car seats, it really was great. When I read that Mazda extended their rear seat cushion, I thought that this was a great idea. While my children are all small at the moment, as parents we do prepare for the future and growing children is definitely something to consider when purchasing a family vehicle. Even if you do not have any children or possibly a smaller family, I'm sure that even the adults that ride in the back seats will appreciate the extra space they will have with the two-position rear bench. The rear doors also open much wider, which was also very noticeable. Another feature we noticed was the quiet interior. As promised Mazda provided a 10% noise reduction and it is definitely noticeable.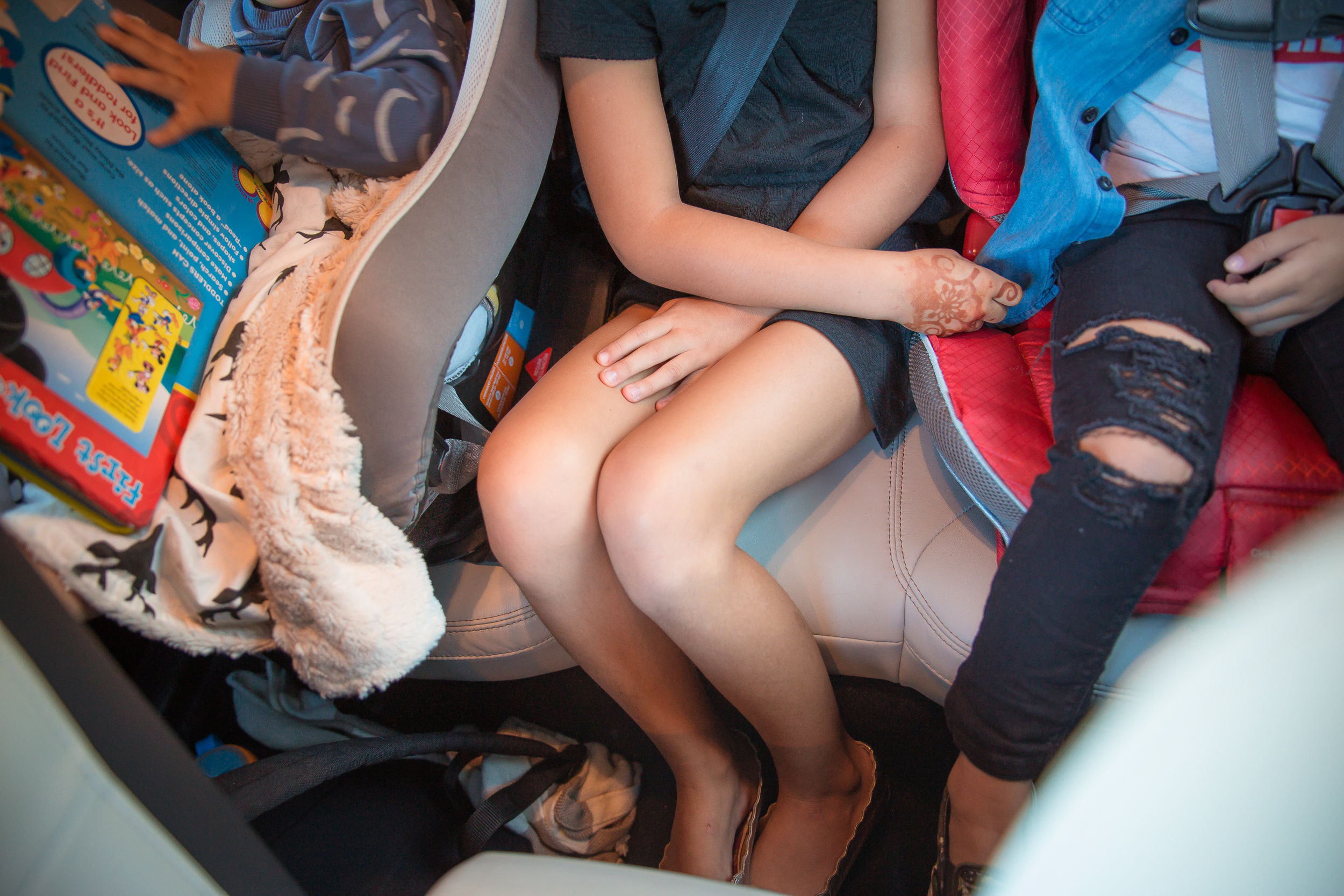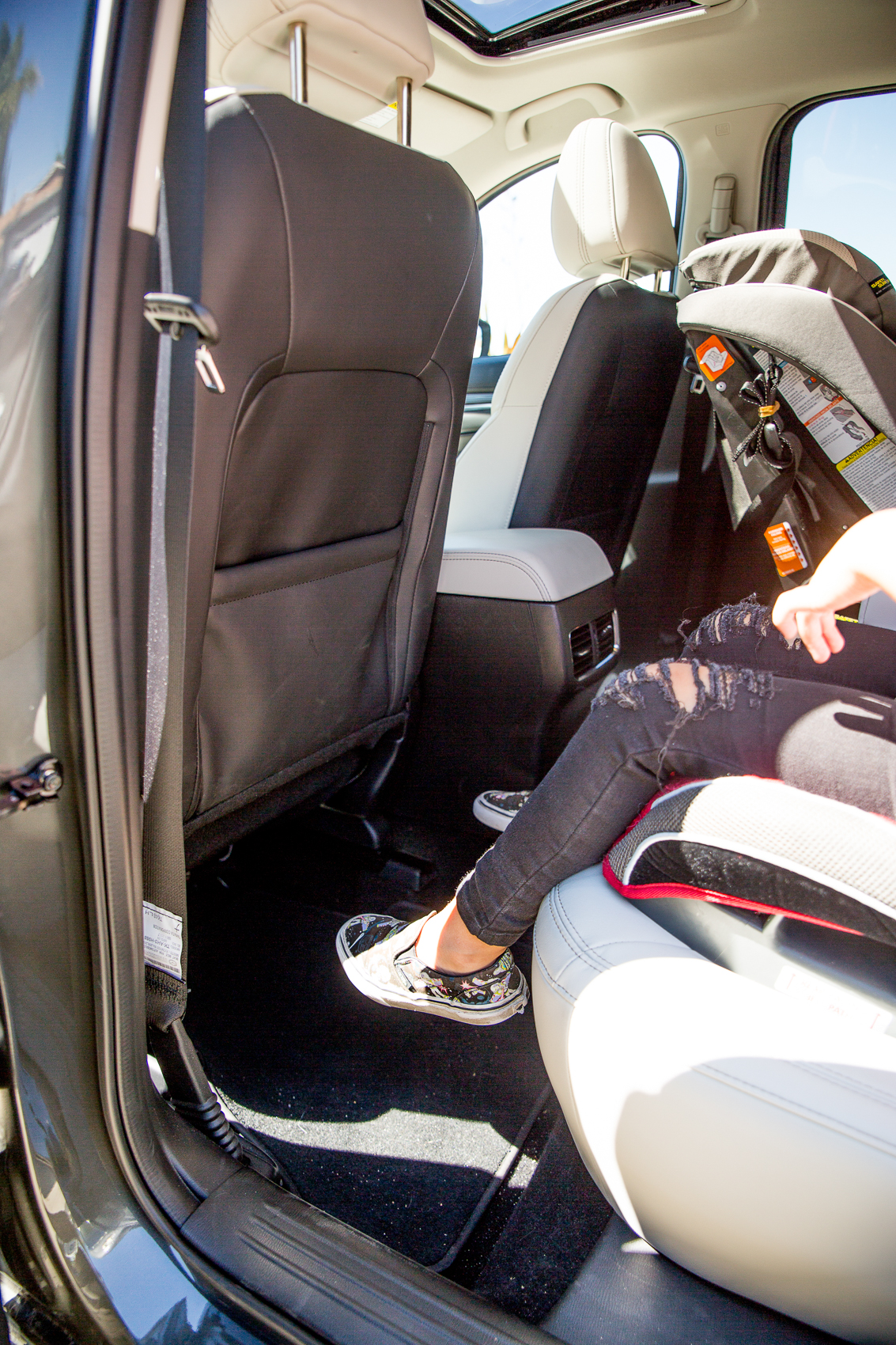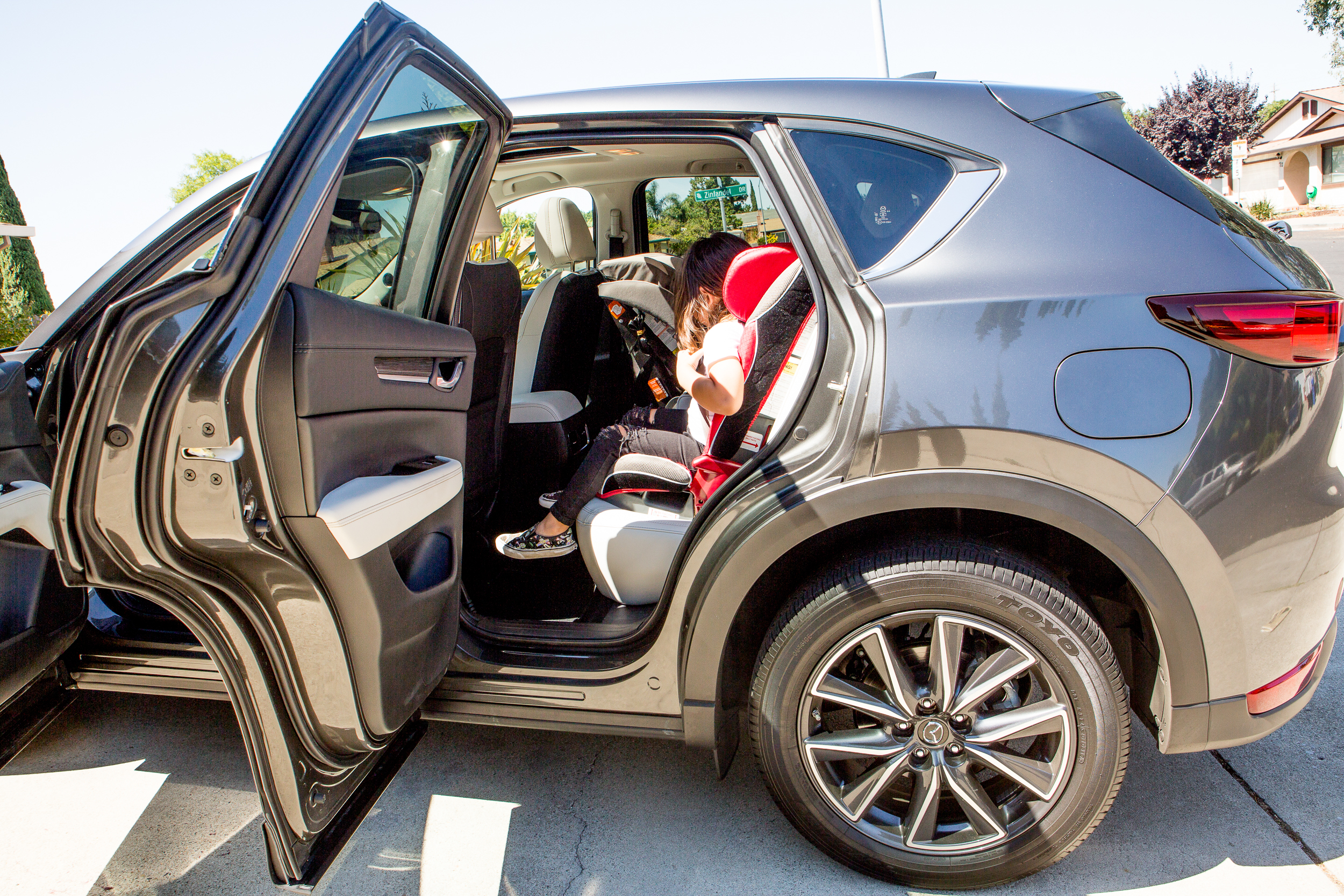 I'm pretty sure the sunroof will always be my children's favorite feature, along with the USB ports in the back of course. The sunroof really just adds to any vehicle and when traveling in the evening, they love to count the stars and it's great to keep open on evening drives in the summertime.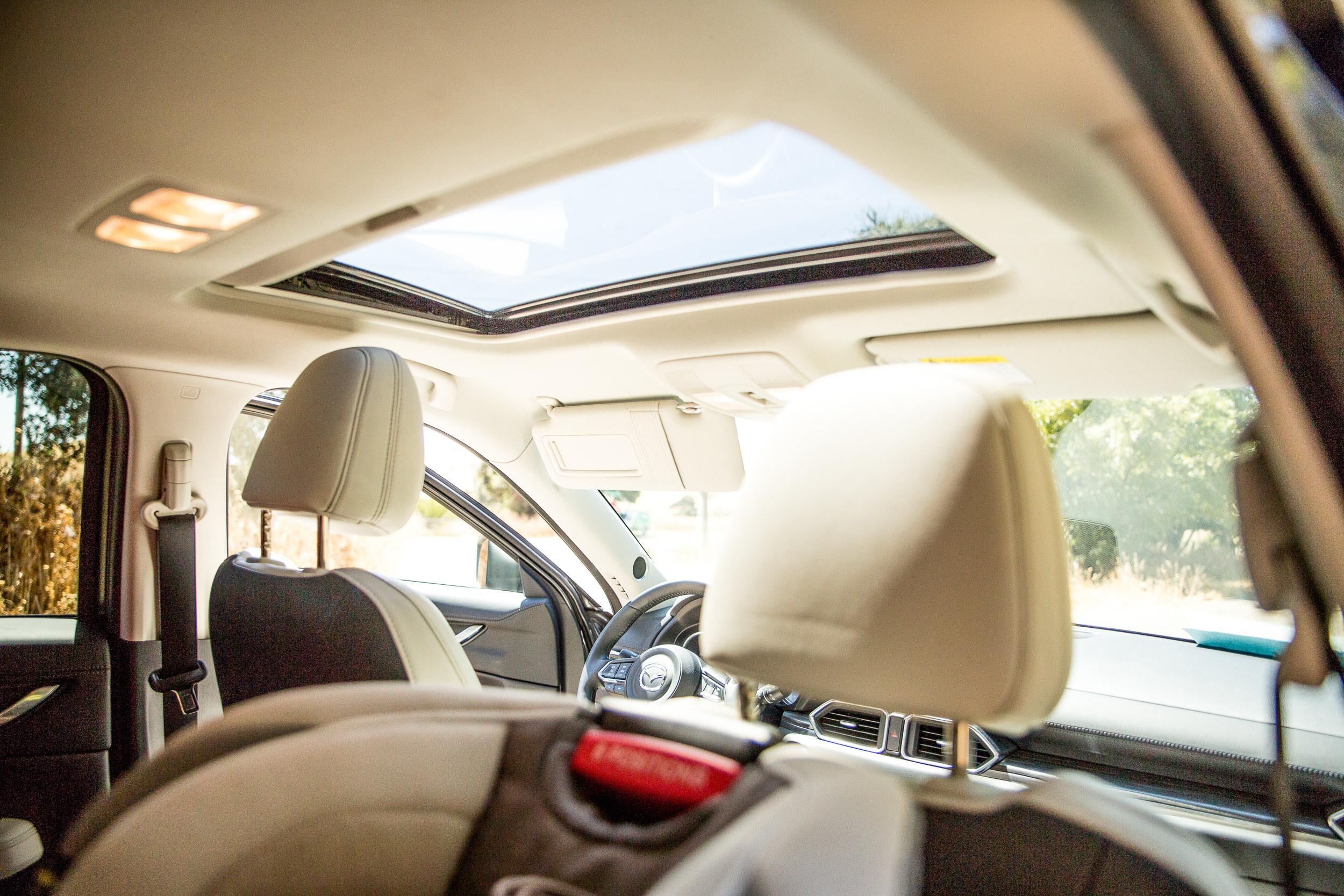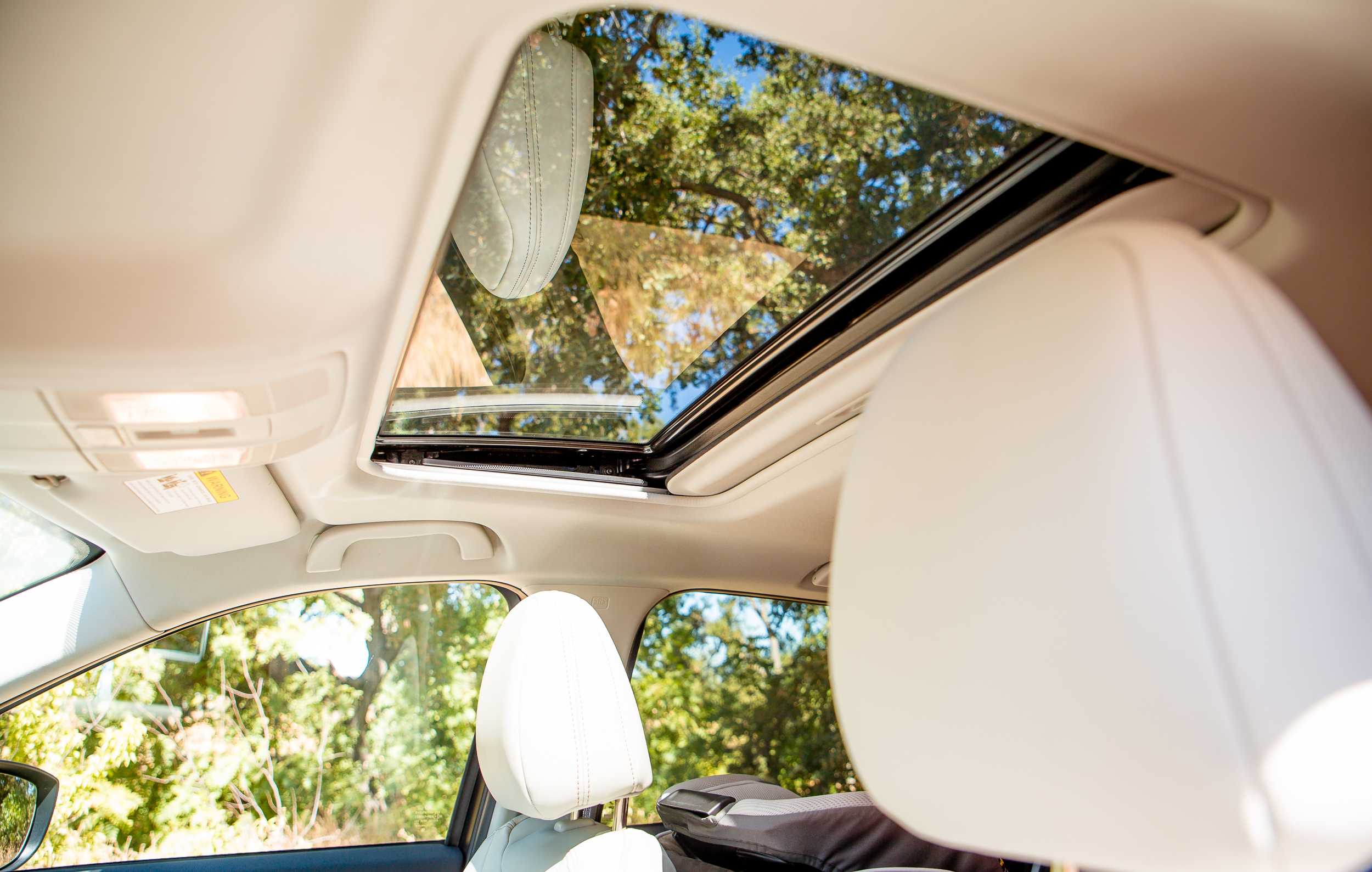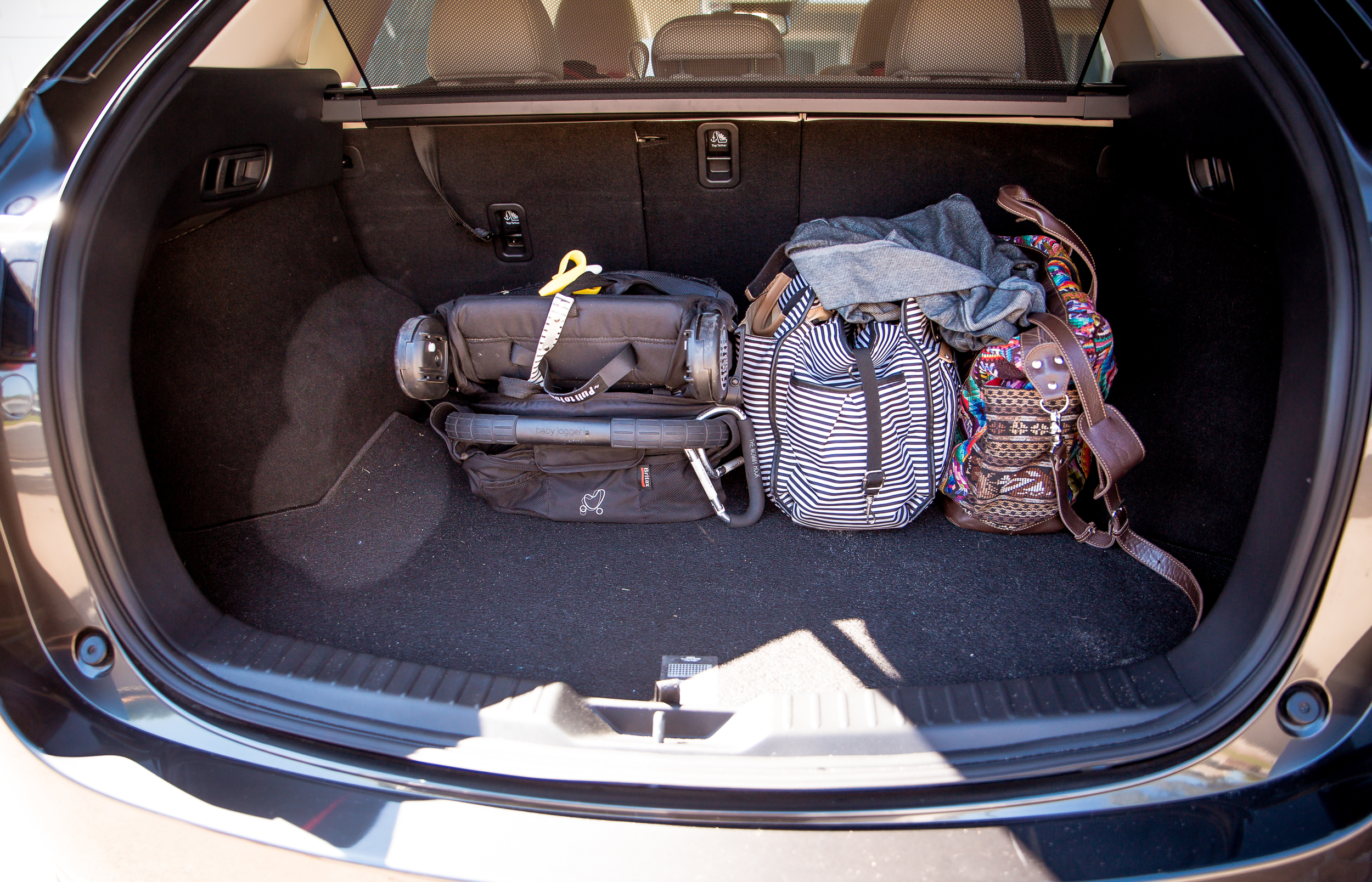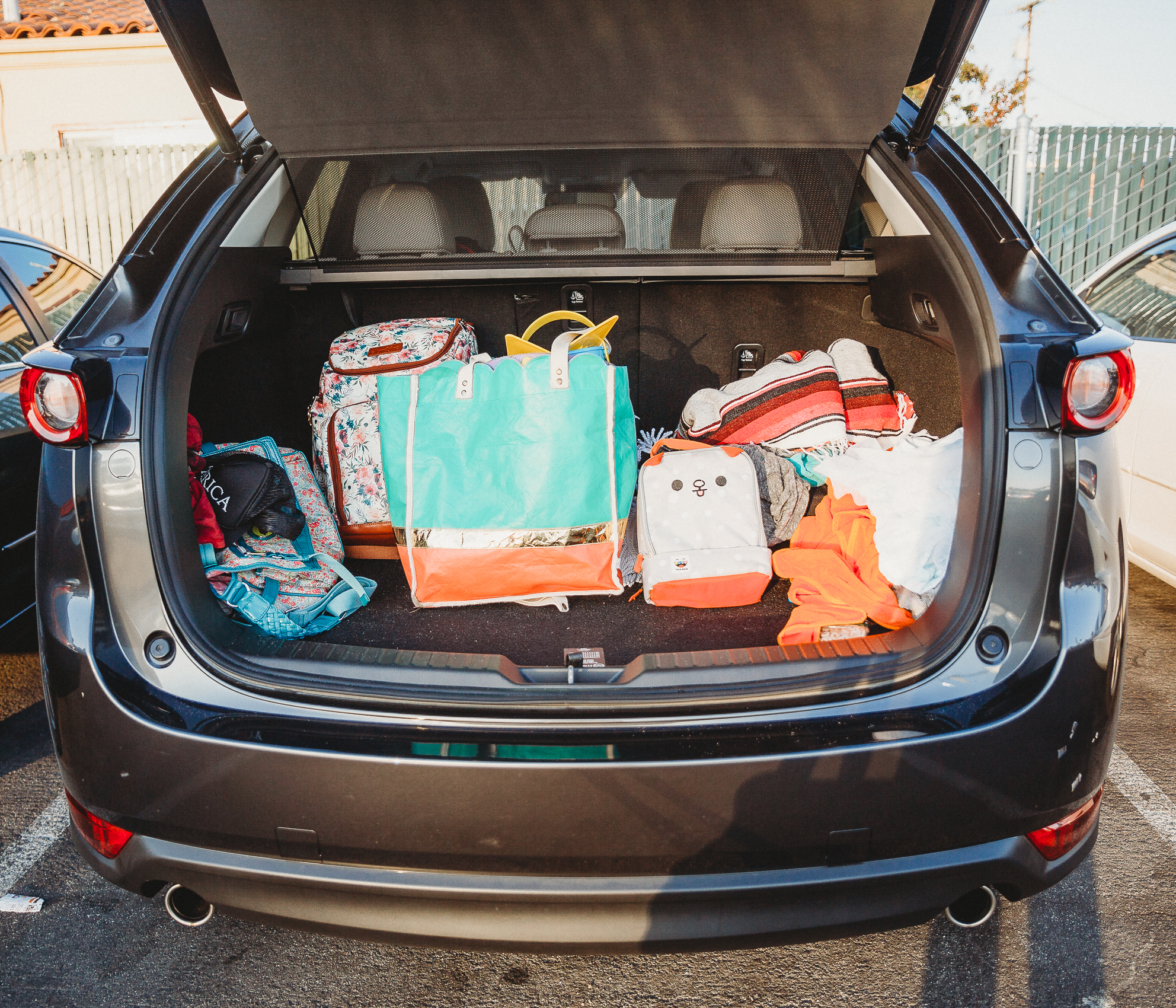 The Cargo space in the CX-5 is not bad at all. We found it to be more than what we needed on any typical day. On an average day we have our stroller, one or two bags, typically the baby bag and my camera. When we visited Santa Cruz for the day we had much more with us, and still no problem fitting everything in the trunk. The retractable Cargo Cover attaches to the lift gate which is such a great idea. I personally find this very useful as I bring my camera equipment with me often and it really helps to keep these items viewable, so I do not always have to bring them with me.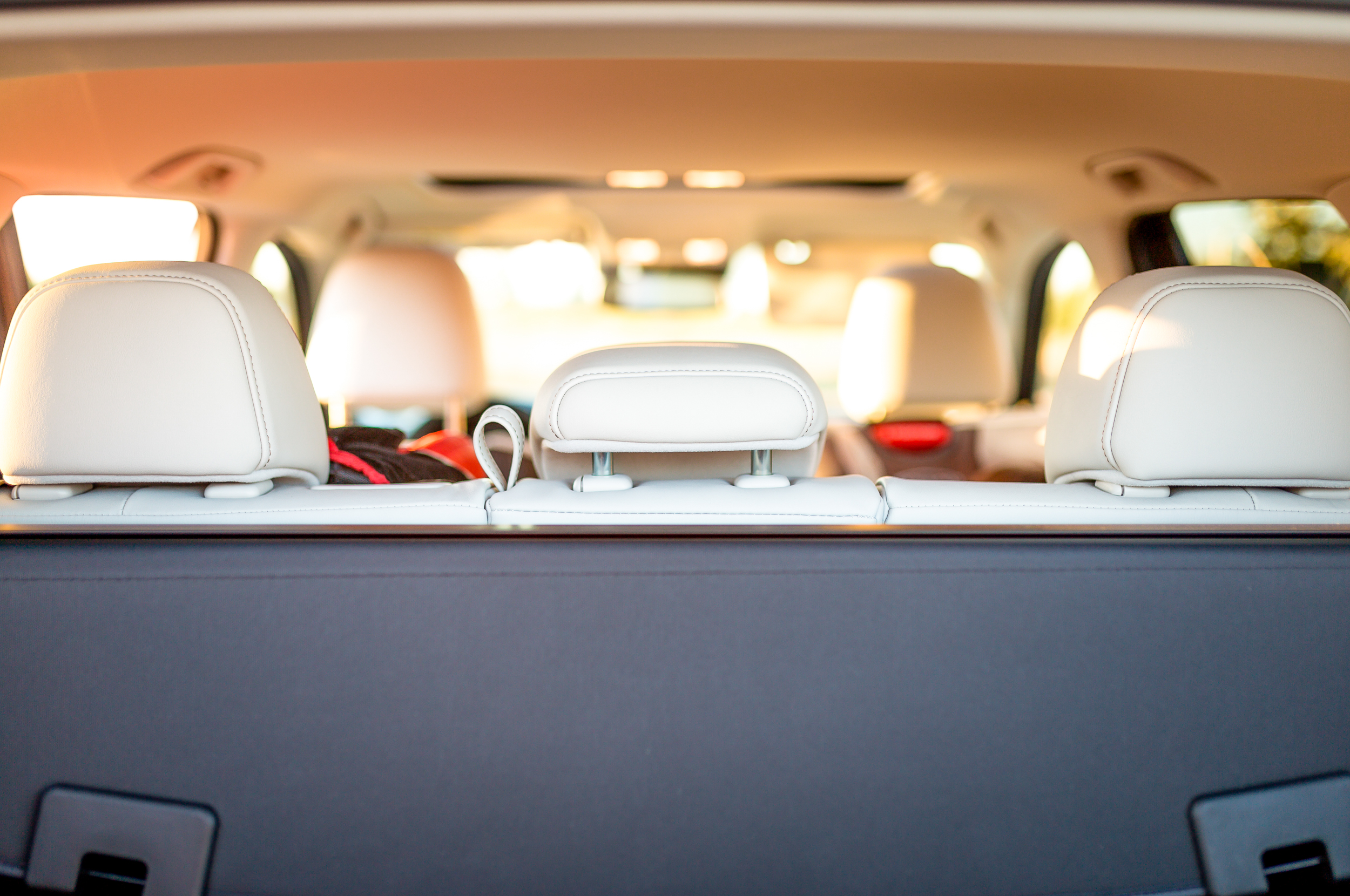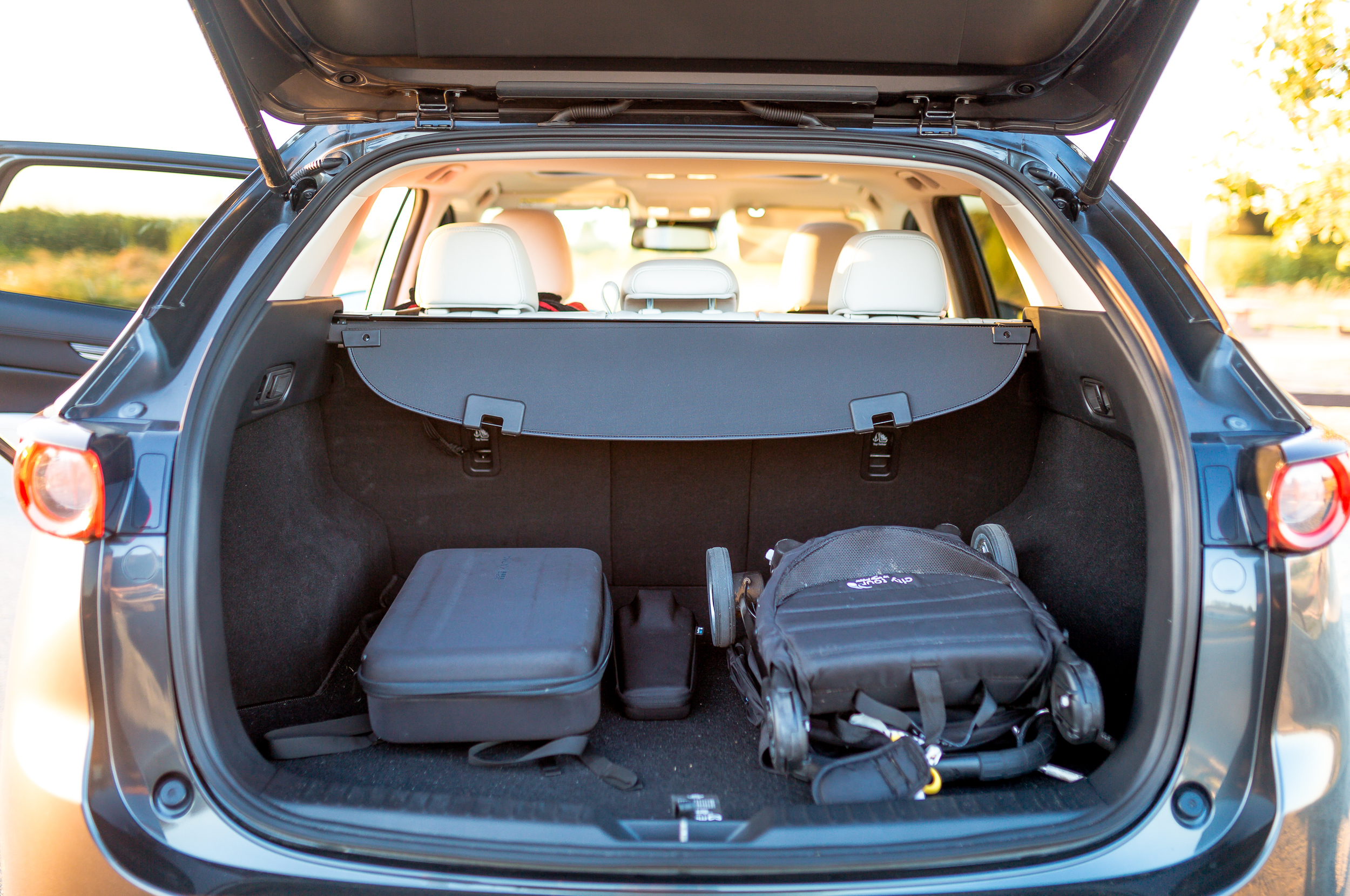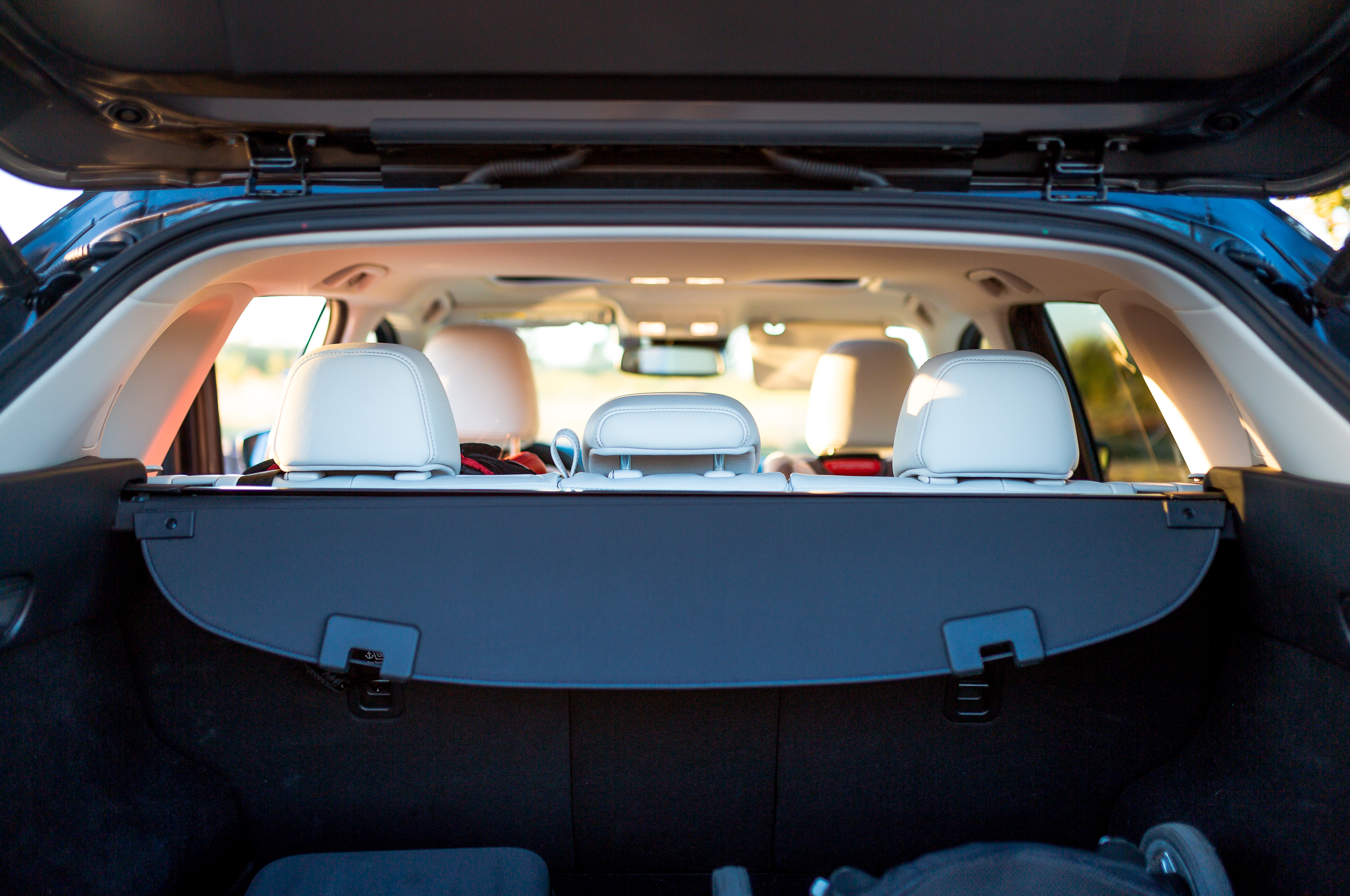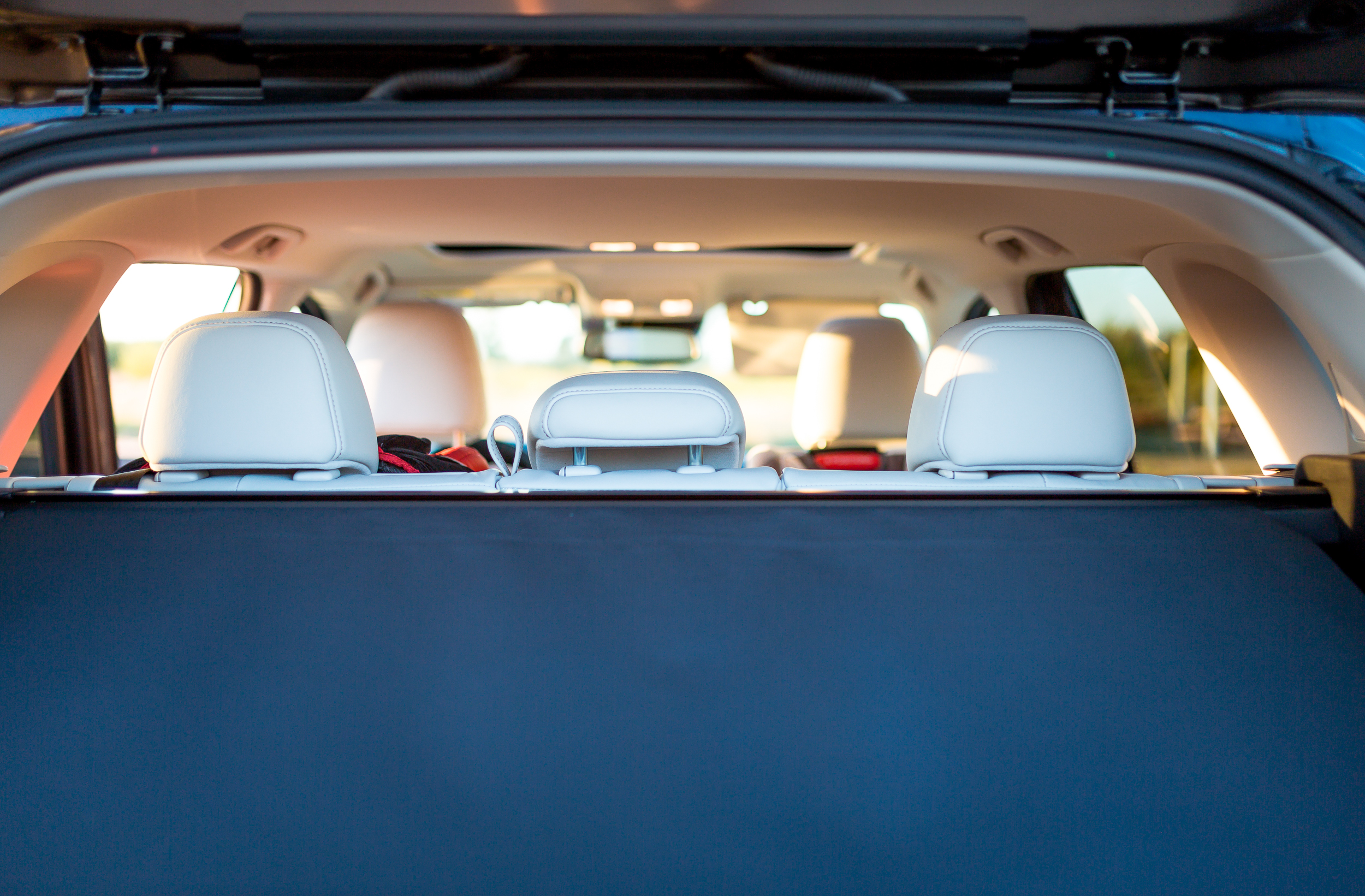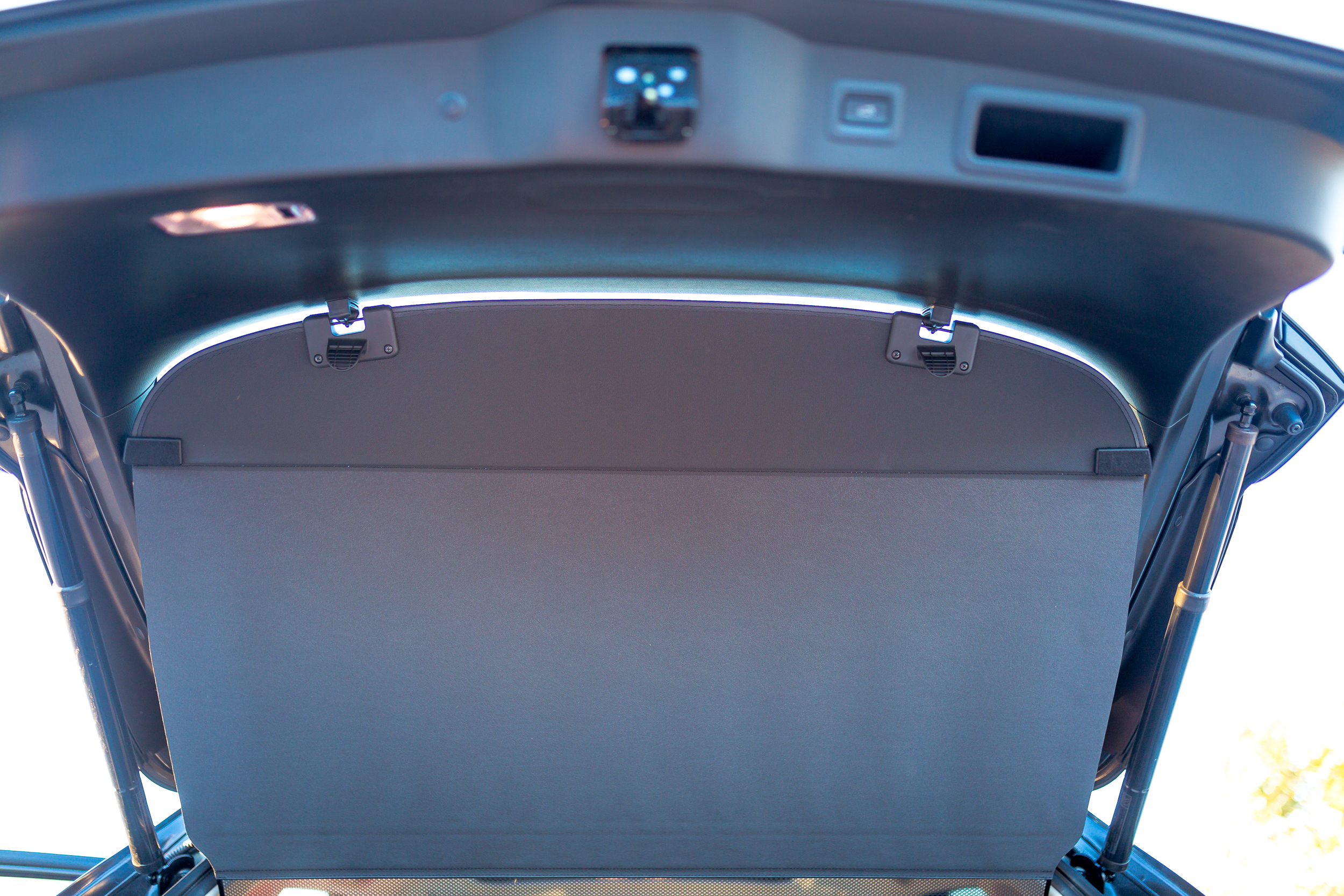 Fuel economy is 23/30 MPG City/ Highway, which is about average for this class and didn't seem bad at all for the week we tested it. We drove to Santa Cruz for the day (about a 2 hour drive) and took it back and forth on the freeway throughout the week.
Overall, we love the 2017 Mazda CX-5. We think it is an amazing crossover for families of four, possibly even 5 depending on your needs. With all of the additions to the 2017 model, there honestly isn't too much more I think Mazda can do to top this one. We are impressed by the superior interior and the overall style, as well as the added safety features. It's fun to drive and pretty much has everything I can think of that families would be looking for in a new reliable vehicle.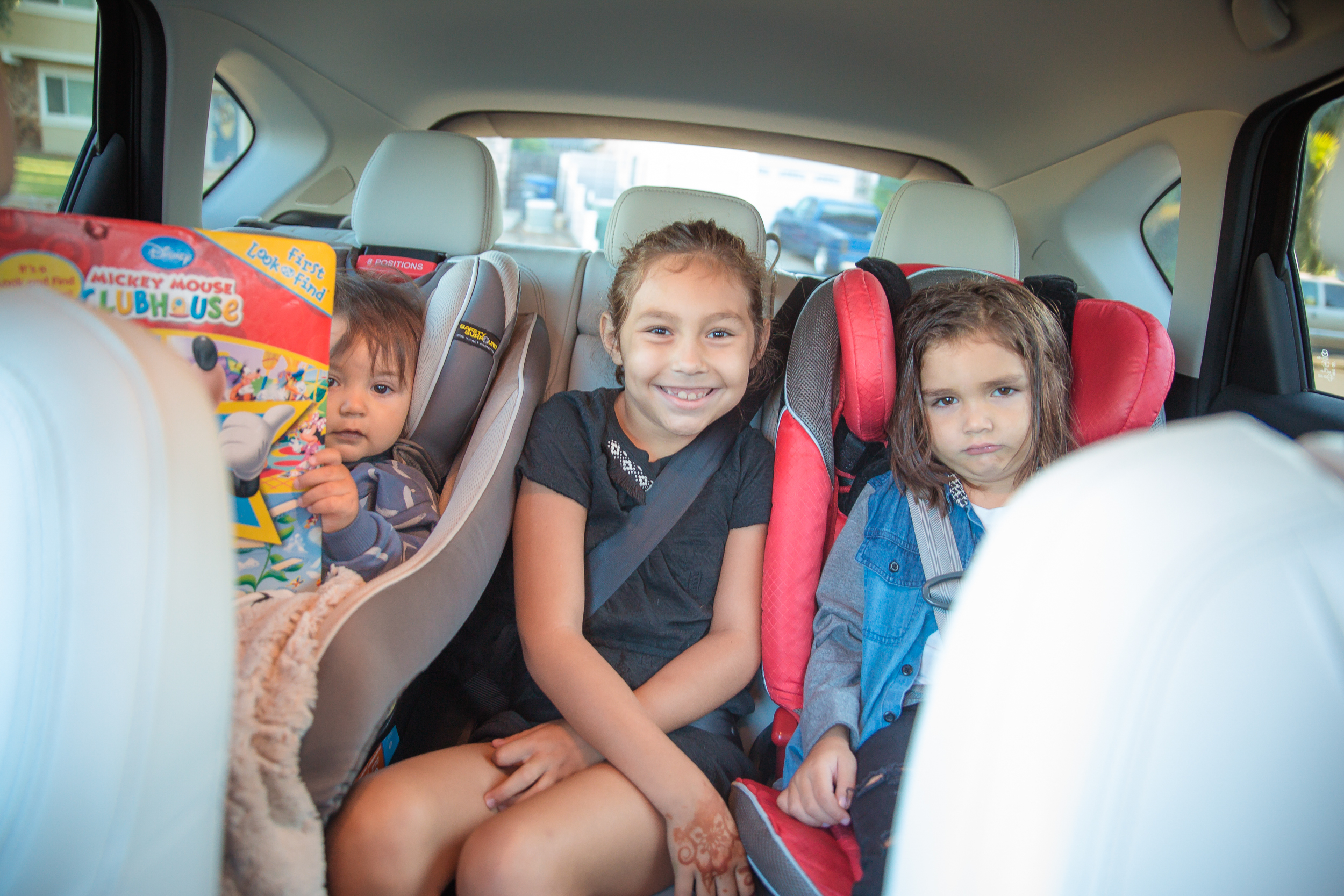 The MSRP for the 2017 Mazda CX-5 Grand Touring starts at $29,395. Make sure to check out all the options as they do start out as low as $24,045.00, being a very affordable option for many families.
If you are looking for a vehicle that caters to smaller families then definitely check out our Mazda3 Review! 
http://www.raising-the-wild.com/wp-content/uploads/2017/09/2017-Mazda-CX-5.jpg
1700
2462
raising-the-wild
http://www.raising-the-wild.com/wp-content/uploads/2017/05/Untitled.png
raising-the-wild
2017-09-06 09:05:21
2017-09-06 09:05:21
2017 Mazda CX-5: First Drive & Review